About
Sex, drugs and rock 'n' roll are back with a vengeance.
He may be deaf, dumb and blind but he sure plays a mean pinball. Following a traumatic childhood, Tommy's extraordinary talents catapult him to cult status.
The Who's 1969 rock opera, Tommy, was revolutionary and sold over 20 million copies. From it came this one-of-a-kind musical that received five Tony Awards, three Olivier Awards and a Grammy.
This story of hope and triumph over adversity will shake your soul with its unforgettable soundtrack. Smash hits like 'Pinball Wizard', 'I'm Free' and 'Acid Queen' take you back to the hard rock days of the psychedelic Sixties.
You rockers may have had to wait an extra year but this electrifying, high-octane musical finally hits Melbourne in 2022. Use the vibrations to feel your way.
News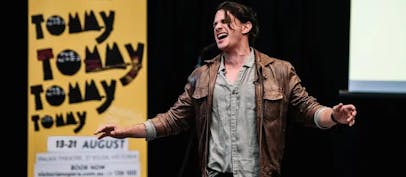 Rising theatre star Mat Verevis on "The Who's Tommy"
Ahead of it's Melbourne season, we sat down with the production's star Mat Verevis to learn a bit more about the show.