Rock and Pop
Under The Southern Stars Tickets
Events
We're sorry, but we couldn't find any events
About
Under The Southern Stars, the spectacular rock music concert series, is thrilled to be taking place in March 2022.
With over 5,000 performances spanning four decades, 20 million records sold worldwide, and inducted into the Rock and Roll Hall of Fame, Cheap Trick are undoubtedly one of the most influential classic rock groups of the past 50 years. The band was formed in 1974 and while it has evolved throughout the years, Cheap Trick has continued to reach mainstream and critical success. Hits such as I Want You To Want Me, Dream Police, and Surrender have cemented the group as one of America's top rock 'n' roll bands of all time.
BUSH have been a mainstay on Australian radios since the release of their debut album Sixteen Stone in 1994. The album was an instant smash spending 43 weeks in the Australian Top 50, peaking at #5. Glycerine, Everything Zen and Comedown are in the DNA of Aussie rock fans and are played daily on the airwaves to this day. 
One of the biggest rock acts of the 1990's with over 50 million albums sold, Stone Temple Pilots broke out of the scene they helped to define into bonafide superstars. From their breakout debut album, Core, with legendary hits, Sex Type Thing, Creep, and Plush to Purple's soaring Interstate Love Song and Big Empty and the late 90's smash singles Big Bang Baby and Sour Girl, STP songs are the soundtrack of a generation.
The ultimate road dogs, Black Rebel Motorcyle Club harness pure garage punk energy and mix in rolling riffs and dirge-laden rhythms to shake you to the core and make you want a cigarette afterwards. Their self titled debut album turned 20 this year and for the past two decades through 9 studio albums, BRMC have been at forefront of the psych-indie rock resurgence. Tracks like the anthemic Whatever Happened To My Rock N Roll, the latter day Beatlesque-like Spread Your Love and the hypnotic Beat The Devil's Tattoo define a band that was made for the stage.
What more can be said about one of Australia's longest running and most cherished rock acts? Rose Tattoo need no introduction but just in case you need a refresher, one of the pillars of Australia's distinct pub rock sound have been spreading their message across the world for nearly 50 years! The Rock n Roll Outlaws, led by the one and only Angry Anderson, who at 72 years of age continues to show frontmen a quarter of his age, just how it's done, will pull no punches as they deliver a set full of classics. You know the words, you know the drill... Prepare to be Scarred For Life.
Armed with their latest slab of pure rock n roll, Mother, Melbourne's legendary hard rockers, Electric Mary will get the crowds primed for the evening ahead. Over their decade long career, Electric Mary have shared the world's stages with some of the most revered names in hard rock including Whitesnake, Judas Priest, Deep Purple, Kiss, Alice Cooper, Motorhead, Def Leppard and many more, Their explosive brain-bending live performances at home and abroad are regarded as one of, if not the best live shows anywhere!. 
While we can talk facts and figures all day, the fact remains, you know the bands, you love the songs. Under The Southern Stars gives you the opportunity to experience the greatest hits from some of the worlds' greatest bands all in the one day and night of incredible rock and roll!
UTSS2022 BRISBANE SUN 27 MARCH 2022 -TICKETING UPDATE
All existing ticket holders for UTSS BRISBANE (referring to those purchased prior to November 2021 which display rescheduled event dates) are 100% valid for UTSS2022 Brisbane 27 March 2022 – your tickets to not need to be reissued.
For those customers who have emailed us requesting to transfer TO Brisbane, we expect that your ticket transfers will be completed very soon.  We will be emailing ticket holders, as well as providing UTSS Brisbane Ticketmaster access information here on this page and soon as it is ready.
We cannot wait to see you in March for what is going to be an awesome show and the very last show of #UTSS2022 – what a party!
Please check back here, closer to the event as we will be updating this space with information when it comes to hand such as health requirements, access to VIP perks etc.  Keep an eye on your inbox too!
News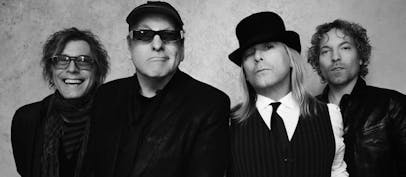 UTSS 2022 announce Adelaide Fringe dates
The rock carnival is back and this time it's heading to the '90s
FAQS
Performing at Under The Southern Stars 2022 will be:

Cheap Trick
Bush
Stone Temple Pilots
Black Rebel Motorcycle Club
Rose Tattoo
Electric Mary

Tickets for Under The Southern Stars 2022 go on sale at the following times:

My Ticketmaster Presale: Friday 26 November @ 9am (local) until Sunday 28 November @ 5pm (local)
General Public Onsale: Monday 29 November @ 9am (local)

Tickets for the Adelaide Fringe Festival - Under The Southern Stars shows go on sale at the following times:

My Ticketmaster Presale: Thursday 11 November @ 9am (local) until Sunday 14 November @ 5pm (local)
General Public Onsale: Monday 15 November @ 9am (local)

Friday 18 March 2022

Cheap Trick
Black Rebel Motorcycle Club
Rose Tattoo
The Black Sorrows
Electric Mary
Germein

Saturday 19 March 2022

Bush
Stone Temple Pilots
Black Rebel Motorcycle Club
Rose Tattoo
The Superjesus
Flyying Colours
Electric Mary
Ben Hazelwood

Sunday 20 March

Stone Temple Pilots
Bush
Cheap Trick
Rose Tattoo
Killing Heidi
The Badloves
Electric Mary
Dallas Crane