10-13 March 2022 / Tarwin Meadows, VIC
UNIFY Gathering Tickets
Events
We're sorry, but we couldn't find any events
About
UNIFY Gathering is a celebration of good friends, great times and heavy music. Taking place from 10–13 March 2022, in beautiful South Gippsland.  Spend a weekend surrounded by good mates, great music, delicious food, carnival rides and more.
UNIFY is officially back in 2022 and the festival is stoked to announce the stacked lineup of Aussie legends that will be taking over Tarwin Meadows for one monumental weekend of heavy music chaos. There's no doubt Australia has some of the most impressive acts in the world right now and UNIFY can't wait to welcome the 2022 all-Australian lineup to its heavy music dreamland.
Not only one of the biggest metalcore acts in the country, but also internationally, The Amity Affliction will take over UNIFY's stage for a monumental performance hot off the back of their latest album, Everyone Loves You… Once You Leave. The Amity Affliction headlined the first ever UNIFY back in 2015, so it's only fitting they return to the stage for what is sure to be one of the biggest instalments of the festival yet.
One of the most iconic rock bands in Australia, Violent Soho screamed their way into public conscience with their highly acclaimed LP, Gold accredited Hungry Ghost. It came in a hail of riffs and 'HELL F*CK YEAH's scrawled on arms, desks, and bathroom walls the world over with 'Covered in Chrome' becoming an anthem for music fans everywhere. Violent Soho cemented their legendary status with the release of Everything is A-Ok in April last year, again debuting at #1. UNIFY 2022 will be the band's second performance since the iconic album and will be the first time Violent Soho have played the festival since their colossal set in 2017.
Joining The Amity Affliction and Violent Soho is a smorgasbord of homegrown heroes. With first time UNIFY performances from the likes of Alpha Wolf, Teenage Joans, PLINI, BUGS, Short Stack, Stepson, RedHook, BLOOM & more! Plus, return appearances from heavyweights such as Ocean Grove, Thornhill, Yours Truly and WAAX - all of whom have blown up enormously since they last stopped by Tarwin Meadows. 
UNIFY 2022 will have a strict capacity of just 7,000 which is less tickets than what was sold for the previous four instalments of UNIFY, so be sure to secure your tickets early.
News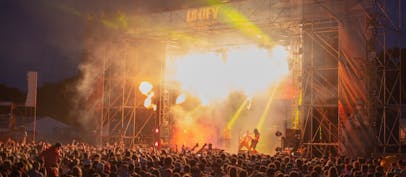 UNIFY Gathering 2022 is here
Want to lock in some great times with good friends and some of Australia's best heavy music acts – UNIFY Gathering 2022 has you sorted.
FAQS
Performing at UNIFY 2022 are:

The Amity Affliction
Violent Soho
Stories (Exclusive One-Off Reunion)
Alpha Wolf
Alt.
Banks Arcade
Bugs
Bloom
Dream On Dreamer
Dregg
Drown This City
Gravemind
Grenade Jumper
The Last Martyr
Ocean Grove
Plini
Pridelands
RedHook
Rumours
Short Stack
Slowly Slowly
Starve
Stepson
Teen Jesus & The Jean Teasers
Teenage Joans
Thornhill
To Octavia
WAAX
Wildheart
Yours Truly

Tickets will be on sale from 12pm AEST, Thursday 19 August.

TICKET TYPES 

In addition to the amounts below a Handling Fee from $2.95 per transaction applies. In addition a delivery fee may apply depending on the mode of delivery selected.

General Admission Ticket $249 + BF ($255.36)
Your GA Ticket. Giving you festival and camping access from Friday - Sunday. 

General Admission Collector Ticket $259 + BF ($266.55)

Your GA Ticket – but instead of being on your mobile, will come as a 3D collectible ticket! Give you festival and camping access from Friday – Sunday.

TICKET EXTRAS  

In addition to the amounts below a Handling Fee from $2.95 per transaction applies. In addition a delivery fee may apply depending on the mode of delivery selected.

Early Access Pass $99 + BF ($101.48)

Get in and set up a day early.  Add this pass to your ticket and join us for our Thursday pre-party.

This pass allows you access to the campsite & pre-party from Thursday afternoon.
1 pass per ticket holder is required to gain entry through the gates on Thursday.

Camper/Caravan Pass $90 + BF ($92.30)
Roll up to camp in your camper, RV, 4WD with tent attachment or caravan.  If you have a vehicle suitable to camp in, and defined as a camper, RV or caravan, this is the pass for you. 1 pass per vehicle required. 
Ground dwelling tents are NOT permitted in this area. 

Car Pass $20 + BF ($20.94)
All vehicles parking onsite require a car-pass in order to park in the car park for the weekend.
1 car-pass per vehicle, carpooling is recommended. All funds generated from the car-pass program go directly into sustainability initiatives at the festival. 

We accept all major credit cards. You can also choose to checkout with AfterPay or Paypal.

You can buy a maximum of 10 tickets per transaction.

All tickets (except Collector Tickets) are delivered via Mobile – accessed via your My Account or on the Ticketmaster App.

A Collector Ticket is a souvenir, 3D-style ticket which not only gets you into the event, it also serves as a treasured keepsake to kept well after the festival is over.

Collector Tickets are made available for selected events and can be purchased through the normal purchase processes – be sure to select a "Collector Ticket" when choosing your ticket type.

Collector Tickets can only be delivered to fans via mail, and cannot be sent as Print-at-Home or E-Tickets, or collected from outlets or the venue. Collector Tickets are not available to those without a valid Australian address. You must provide an Australian postal address to receive Collector Tickets.

The Early Access Pass allows you to enter the festival early, from Thursday at 2pm where your GA ticket only allows access to the festival from Friday at 8:00am. Alleviate the rush, meet your mates and get first dibs on the best campsite location. 

Yes, if you are driving to the festival site and planning to park in the festival parking lot. 1 pass per vehicle is required. 

Tickets to UNIFY 2022 are sold as weekend passes only.

Whilst UNIFY try to make their festival as accessible as possible, the event takes place on a farm with undulating grounds.  We recommend that those with limited mobility attend with a carer to get around. All toilet areas are equipped with an accessible toilet.  We also have a viewing deck with an accessible ramp close to the stage. For additional information, please contact info@unifygathering.com to speak to the team about the festival site.

Ticketmaster along with our friends at UNIFY are proud to be an affiliate of the Victorian Companion Card Company. Companion Card promotes the right of people with a disability, who require a companion, to fair ticketing at Victorian events and venues. Please contact us directly on 1300 446 9425 to organise your companion ticket.

The festival has a no refund policy unless otherwise stated in our terms and conditions, or required by law. 

There will be no refunds for change of mind. Our refund policy for COVID-19 related postponements or cancellations is stated in our terms and conditions. 

Full Terms & Conditions can be found here: https://www.unifygathering.com/terms-conditions/

If you cannot travel, (or foresee that you will not be able to travel) to or attend UNIFY due to national or state government restrictions, we will offer a refund in certain circumstances. If impacted, you can proactively request a ticket refund on or before 30 December 2021 (unless the event is postponed, in which case, on or before 17 February 2022).  After this date, any requests will be considered at our discretion as we know that circumstances can change quickly. Any updates to this refund policy will be communicated online and via social media channels of UNIFY Gathering Festival. 

Your details given at the time of purchase (such as your address) will be used to determine if you're eligible for a refund and we may also ask for additional information or documentation

If the festival is unable to take place on 20 - 23 January 2022 due to Covid-19 related government restrictions, the festival will be postponed to 10 - 13 March 2022. Your tickets will automatically be valid for the March dates. Please ensure you are able to attend both dates prior to purchasing as no refunds will be offered if the festival is rescheduled to the March dates, unless required by law.  Resale options will also be available for you to forward/sell your ticket to someone else. 

In the unlikely event that the festival is entirely cancelled and does not proceed due to Covid-19 related government restrictions you will be guaranteed a refund of 100% of the amount paid for your ticket. 

Only the original purchaser of a ticket will be entitled to any available refund (this includes refunds for resold or forwarded tickets). If you are eligible for a refund you will need to apply for it via your Ticketmaster account. 

Red Hill Entertainment is working closely with local and state government agencies to make sure UNIFY Gathering is safe for attendees, artists, staff and suppliers.  Our Covid Safe Event Plan has been developed and is evolving with the most up to date information and recommendations from public health authorities; complying with the current COVID-19 Public Events Framework.

PUBLIC HEALTH
We ask that you and each member of your booking party / social group make a reasonable assessment of your health status before attending the event. You may be required to answer a public health declaration in advance of arrival, declaring that you are feeling well, have no symptoms of Covid-19 and have not been in contact with any known cases of COVID-19 in the past 14 days. 

ARRIVAL
Patrons are encouraged to arrive, camp and depart in their social groups where possible. UNIFY Gathering has an issued Covid-19 QR code for its location. Each person attending the festival must check in utilising the Services VIC QR code App. Each patron may be asked to display their ' Last Check In' screen upon entry to the festival.

SAFETY PROTOCOLS
Patrons must comply with any COVID-19 safety protocols or requirements notified to you by the event organisers. This includes:

o   QR Code Check-In 

o   Mask requirements (Please bring your own cloth mask to help reduce waste);

o   No Cash Accepted;

o   Practice good hygiene;

o   Physical distancing requirements;

o   Person limits for particular spaces and areas; 

FULL FAQ FOUND HERE: https://www.unifygathering.com/faqs/