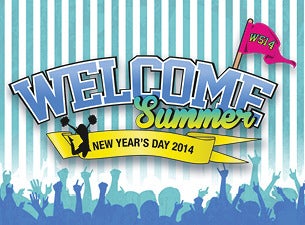 Dance/Electronic
Welcome Summer NYD Tickets
Events
We're sorry, but we couldn't find any events
About
As Melbourne settles into spring, and summer looms just around the corner, New Years Day celebrations are being planned around the quintessential NYD event Welcome Summer 2014.

WS14 enters its fifth year this New Year's Day with legendary DJ Danny Tenaglia. After announcing his retirement in early 2012, Welcome Summer is set to bring the 'party' to Melburnians with Danny Tenaglia returning to his distinguished craft.

Originating from New York, Danny Tenaglia has been plying his trade since the age of ten and has remained prolific since.  Hailed as the 'DJs DJ', Tenaglia's roof-raising productions, remixes and live performances have earned him Grammy nominations, countless awards and a swagger of lucrative remixes for some of the most high-profile artists on the planet.

WS14 will also play host to progressive house DJ Morgan Page. Morgan Page's shows are infamous for their escapism – he wants the audience to leave their normal life behind and enter another world. Fresh from headlining his biggest ever US tour, Morgan Page brings his unique EDM style to Welcome Summer for the first time.

Danny Tenaglia and Morgan Page will be supported by a myriad of local talent including Steve Bleas, Peter Mac, Phil K, John Course, Franky D, Simon Digby, James Belias, Mr. Stoj. APAP, and more.

Poised to soak in the sun, sights and sounds at Shed 14, Welcome Summer 2014 will run as a day and night mega-event from 1pm – 1am on Wednesday January 1st 2013. Don't miss your only chance to see this massive line-up as Melbourne welcomes in the New Year!