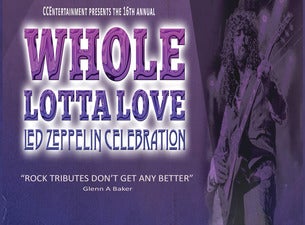 More Music
Whole Lotta Love Tickets
Events
We're sorry, but we couldn't find any events
About
CCEntertainment's 16th Annual "Whole Lotta Love" Led Zeppelin Celebration is set to return to Sydney in 2018. This show pools the pinnacle of Australia's musical talent, both vocalists and musicians, to capture the magic and emulate the spirit of Led Zeppelin's signature sound. Inimitable Creative Director, Joseph Calderazzo will lead an all-star 9 piece band, including string section to recreate and reinterpret benchmark releases including 'Stairway To Heaven', 'Black Dog', 'Kashmir', 'Babe I'm gonna leave you' , 'Kashmir', 'Battle of Evermore' 'Rock and Roll' and so many more.
Featuring guest vocalists: Steve Balbi (Noiseworks/Mi-Sex), Dallas Frasca (Melb), Frank Lakoudis (Bad Moon Born), Mark Dacosta (Aust Idol) and introducing Nicole Hawkins (Grandhour/Melb)
The Band: Joseph Calderazzo – Guitars (Jenny Morris Band), Glenn Moorhouse – Guitars (American Idiot), Dario Bortolin – Bass (Baby Animals), Gordon Rytmeister – Drums, Charmaine Ford – Keyboards, Lozz Benson – Percussion (That Redhead/John Butler), Rachel Thompson – Viola (Opera Australia), Vanessa Tammetta – Violin (Sydney Lyric Orchestra) and Charlotte Vance – Cello (Lior).
"Rock tributes don't get any better" Glenn A. Baker