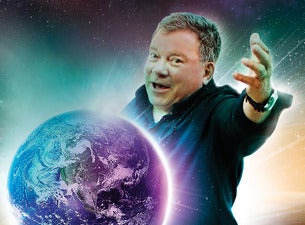 Comedy
William Shatner Tickets
Events
We're sorry, but we couldn't find any events
About
Shatner's World - The Return Down Under!
"Everyone gets a sequel, this is MINE!"
More Stories, More Songs, More Musings, More SHAT!
No one tells a story like William Shatner! The TV and movie legend is returning Down Under to share more stories, songs, jokes and musings from his incredible life. Don't miss this opportunity to share the room with one of the world's greatest raconteurs!
"He has gone where no man has gone before, chased down criminals in an unnamed city strangely resembling Los Angeles and fought off demons while speaking Esperanto. And a half-century into his Hollywood career, he still has them. Most. Recognizable. Cadence. In showbiz."
At 87 William Shatner has no plans to slow down.
"I advocate that this brief time that we're here on Earth, we need to allow ourselves to be vulnerable and open to every experience," he told The Washington Times. "And to have joy and have awe and wonder at the world around us to say 'yes' to life."
VIP Photo Opportunity
If you've ever dreamed of meeting William Shatner there are a strictly limited number of VIP packages available which entitle you to a professionally taken photograph with Mr Shatner and guarantees you the very best seats in the house.