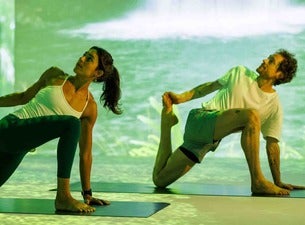 Yoga At The Lume Tickets
Events
21/8/22

South Wharf, VIC

THE LUME Melbourne

Yoga At The Lume

24/8/22

South Wharf, VIC

THE LUME Melbourne

Yoga At The Lume

28/8/22

South Wharf, VIC

THE LUME Melbourne

Yoga At The Lume

31/8/22

South Wharf, VIC

THE LUME Melbourne

Yoga At The Lume

4/9/22

South Wharf, VIC

THE LUME Melbourne

Yoga at THE LUME (September Pass)

4/9/22

South Wharf, VIC

THE LUME Melbourne

Yoga At The Lume

11/9/22

South Wharf, VIC

THE LUME Melbourne

Yoga At The Lume

18/9/22

South Wharf, VIC

THE LUME Melbourne

Yoga At The Lume

25/9/22

South Wharf, VIC

THE LUME Melbourne

Yoga At The Lume
About
Find inner peace and tranquillity in a fully immersive yoga experience at THE LUME Melbourne.
In partnership with Happy Melon Studios, THE LUME Melbourne is inviting guests to fully immerse themselves in a unique yoga class surrounded by motion-designed digital artworks.
Stretch your limbs and realign mind, body, and spirit while surrounded by new, never-before-seen themes, including hypnotic oceans, calming rainforests and the awe-inspiring Himalaya. Designed to immerse yogis into a calming and tranquil setting, the serene settings are accompanied by an inspiring musical score and THE LUME's signature perfume to ignite every single sense.
As this is a limited event, advance bookings are required.
Please note:
·       Please arrive 15 minutes before your scheduled class. 
·       Please bring your own yoga mat and water bottle. No other equipment is required
·       Participants receive a 60 minute class.
·       There are no changing facilities. Bathrooms are available.