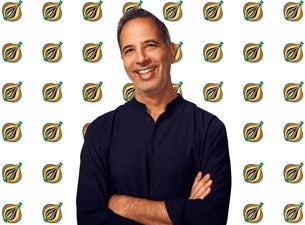 More Miscellaneous
Yotam Ottolenghi Tickets
Events
30/1/23

Perth, WA

Perth Concert Hall

Yotam Ottolenghi
International Events
2 Events
25/1/23

Auckland, NZ, New Zealand

Kiri Te Kanawa Theatre

Yotam Ottolenghi

27/1/23

Wellington, NZ, New Zealand

Michael Fowler Centre

Yotam Ottolenghi
About
Chef, restaurateur and much-loved author Yotam Ottolenghi will be visiting Perth for his highly anticipated Flavour of Life tour, in conversation with award winning author and broadcaster Alice Zaslavsky.  
It will be an exclusive opportunity to hear Yotam discuss the tastes, ingredients, and flavours that excite him, and how he has created a career from cooking.  
"I'm thrilled to confirm that I will finally be visiting Australia for my Flavour of Life tour in the new year. I seriously hope you can make the new dates, so you can listen to me share my food (and some non-food) stories with you all." - Yotam Ottolenghi 
Yotam will offer unique insights into how flavour is dialled up and why it works. He will also talk about how his upbringing has influenced his food, the journey that led to his becoming a chef, opening seven delis and restaurants in London, and writing eight bestselling cookbooks. 
You too can take part in this unique experience, with Yotam inviting fans to ask their own questions on Twitter at #AskOttolenghi with a hand-picked selection answered, live on stage!