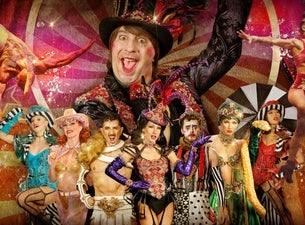 Cabaret
Zirque La La Tickets
Australia
5/12/23

Broadbeach, QLD

Pink Flamingo Spiegelclub

Zirque La La

8/12/23

Broadbeach, QLD

Pink Flamingo Spiegelclub

Zirque La La

9/12/23

Broadbeach, QLD

Pink Flamingo Spiegelclub

Zirque La La

9/12/23

Broadbeach, QLD

Pink Flamingo Spiegelclub

Zirque La La

12/12/23

Broadbeach, QLD

Pink Flamingo Spiegelclub

Zirque La La

16/12/23

Broadbeach, QLD

Pink Flamingo Spiegelclub

Zirque La La

16/12/23

Broadbeach, QLD

Pink Flamingo Spiegelclub

Zirque La La

19/12/23

Broadbeach, QLD

Pink Flamingo Spiegelclub

Zirque La La

22/12/23

Broadbeach, QLD

Pink Flamingo Spiegelclub

Zirque La La

23/12/23

Broadbeach, QLD

Pink Flamingo Spiegelclub

Zirque La La

23/12/23

Broadbeach, QLD

Pink Flamingo Spiegelclub

Zirque La La

26/12/23

Broadbeach, QLD

Pink Flamingo Spiegelclub

Zirque La La

29/12/23

Broadbeach, QLD

Pink Flamingo Spiegelclub

Zirque La La

30/12/23

Broadbeach, QLD

Pink Flamingo Spiegelclub

Zirque La La

30/12/23

Broadbeach, QLD

Pink Flamingo Spiegelclub

Zirque La La
About
Open the velvet curtains and step into the exotic world of ZIRQUE LA LA – A Sexy Riotous Circus Cabaret Show exclusive to the Gold Coast's one and only the Pink Flamingo!
Monsieur Jerome and Ring Mistress LaLa have searched the four corners of the globe to bring you the most magnificent and dangerously tantalising cirque acts EVER seen!
The Extravaganza of ZIRQUE LA LA will bring a delicious fusion of Circus, Burlesque, Vaudeville and Cabaret garnished with hilarious comedy, raunchy antics, and edge of your seat thrills.
Just when you think you have seen it all… Raise your glass for ZIRQUE LA LA