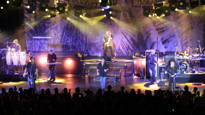 Events
19 results
14/12/23

Pub Choir's Christmas Fundraising Extravaganza

3/2/24

Jammin Festival | Brisbane 2024 - Two Day Pass

3/2/24

Jammin Festival | Brisbane 2024 - One Day Pass

4/2/24

Jammin Festival | Brisbane 2024 - One Day Pass

28/2/24

The National with very special guests Fleet Foxes

17/9/24

THIRTY SECONDS TO MARS - SEASONS WORLD TOUR

10/11/24

Tate McRae - Think Later World Tour 2024

21/11/24

James Blunt 'The Who We Used To Be' Australian Tour
Venue Information
Directions
Bordered by the Brisbane River, Botanical Gardens and Alice Street. Walking access is via Gardens Point Road, The Goodwill Bridge, or the Botanical Gardens.
Parking
No parking is available on site. Patrons can use the various inner city pay-for parking stations. Limited metered parking along Alice Street. We recommend that you park at Southbank or one of the many CBD parking facilities.
Public Transportation
We recommend you use public transport to travel to and from Riverstage. Please contact Translink on 131 230 to check routes and schedules of buses, trains, ferries and City Cat services, or visit their website at www.translink.com.au. Limited services may run on public holidays. The closest train station is at Southbank (we recommend patrons make use of the Goodwill Bridge which stretches from the Southbank precinct to the entrance to the Riverstage). Otherwise, Central Station is another option (but is about a 20-25 minute walk). The nearest City Cat terminal is at QUT and is only a short walk to the venue.
Box Office Numbers
A temporary box office will be open for gate sales on the day of performance. This is located on the QUT side of the Riverstage, next to gate 1 adjacent to the Goodwill Bridge.
Box Office Payment
Cashless payments are preferred. Credit cards are also acceptable for certain events - please contact Ticketmaster on 136 100 to confirm if it acceptable for the event you are interested in. Note there is no ATM at the venue and pass outs WILL NOT be issued for patrons who need to leave to access an ATM machine.
Accessible Seating
If you have a mobility concern, there is an Accessible Viewing Platform. A portable PWD toilet is available in close proximity to the Accessible viewing area. To book a spot on the platform, please telephone the Ticketmaster Accessible Line on 1300 446 925 or use our dedicated online request form https://help.ticketmaster.com.au/hc/en-au/requests/new?ticket_form_id=360000116133 This phone number and online form are reserved for patrons with accessibility requirements and companion card holders. If sending in an online request, please ensure you select Accessible bookings in the Topic drop down and fill in all fields. For further questions about venue accessibility please call Riverstage on 07 3403 7921.
General Rules
For any event listed as "18 years and over only", current photo ID must be taken (regardless of your age). It is a requirement that ID is carried by all persons attending an 18 years & over event - failure to have your ID with you will result in the venue refusing to allow your entry (and refunds will not be given for those that have failed to bring their ID). Riverstage is an outdoor amphitheatre. If rain or bad weather occurs, the show will proceed, unless deemed unsafe to do so. No refunds will be authorised unless the event is cancelled.
Children Rules
Provided the event is not listed as "Over 18's Only" children 12 years old & under MUST be accompanied by a paying adult. Accompaniment by a paying adult is recommended for children between the ages of 13 & 15 years old. For most events, all patrons must hold a valid ticket REGARDLESS OF AGE - this includes babes in arms! It is recommended you check the event page to confirm the babes in arms rule for your event.
Miscellaneous
Permitted items You can bring the following items into the venue: sealed unopened soft plastic water bottles up to 600ml - lids will be removed (event dependant) empty soft plastic water bottles up to 600ml with lids removed for filling at Riverstage's free water stations (event dependant) (lids can be deposited at the cloakroom - free service) rugs and blankets (event/capacity dependent) working guide dogs and assistance dogs strollers (event dependent). Non-permitted items You cannot bring the following items into the venue: backpacks bags larger than A4 size cameras with detachable lens chairs or elevated seating domestic animals (excludes working guide dogs and other assistance dogs) eskies fireworks (of any kind) full (or empty) beverage bottles, cans or containers of any kind (not including water) food iPads large flashlights and torches laser pointing devices prams selfie sticks skateboards studded fashion items umbrellas video or audio recorders of any type weapons of any kind any other items considered to be harmful to others. Council may add items to the prohibited list as required. All bags will be searched. A personal safety and security search is a condition of entry. Security wanding may occur at events. You can leave prohibited items at the cloakroom. Illegal items will be confiscated. Patrons must not stand on bins or fences. The venue is not responsible for any injuries caused or suffered by patrons standing on bins or fences. For more information on prohibited items, COVID-19 or event-specific conditions of entry, please visit https://www.brisbane.qld.gov.au/things-to-see-and-do/council-venues-and-precincts/riverstage