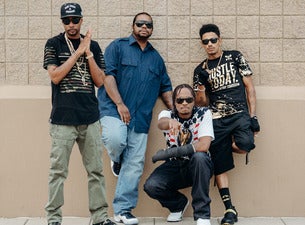 Rap and Hip-Hop
Bone Thugs N Harmony Tickets
Australia
There are no upcoming events in Australia
Don't worry, there are other events available below
International
6/1/24

Auckland, NZ, NZ

North Harbour Stadium

Juicy Festival Auckland
About
Relentless Entertainment are pleased to announce This Is Hip-Hop, featuring Australian touring favourites Bone Thugs-N-Harmony performing their legendary album 'E. 1999 Eternal' in full for the very first time in Australia, plus West Coast rappers DJ Quik and Tha Dogg Pound, with more artists to be announced shortly. Commencing in Melbourne on Saturday May 21st, the tour travels to Perth and Sydney and finishes in Brisbane on Saturday May 28th.
Iconic rap group Bone Thugs-N-Harmony have sold out over 45 shows in Australia over the last 5 years, and are pleased to announce their return to Australian shores with Relentless Entertainment. Krayzie Bone, Bizzy Bone, Wish Bone and Layzie Bone will come together to perform their Grammy Winning album 'E. 1999 Eternal' in full for the first time for their Australian fans. Originally signed by Eazy-E to Ruthless Records, Bone Thugs-N-Harmony went on to sell over 30 million albums worldwide, released 11 studio albums and recorded tracks with some of the most respected names in the business including 2Pac, Notorious B.I.G, and Mariah Carey to name but a few.
Bone Thugs-N-Harmony are one of the most popular hip-hop groups of all time and continue to have a cult following to this day. Joining Bone Thugs-N-Harmony is DJ Quik. The resurgence of West Coast hip-hop in recent times has seen a new breed of artists such as Kendrick Lamar enjoying critical acclaim and commercial success. The resurged interest in the genre has assisted in movies like 'Straight Out Of Compton'- the NWA biopic, top the cinema box office.
One of the biggest names in the genre is the legendary Compton rapper and producer DJ Quik, who will forever be identified with the West Coast for creating an instantly recognisable sound that fuses funk, R&B, soul and everything in between. Such is Quik's influence; LA Weekly named him the Number 1 West Coast producer in the history of hip-hop ahead of Dr. Dre, DJ Muggs and The Alchemist. With eight albums to his name, production work with a who's who of R&B and Hip-Hop including 2Pac, Toni Tony Tone, Jay Z, Snoop and Dr. Dre, and over 100 million sound scanned recordings, DJ Quik stands as one of hip-hop's most consistent artists, producers and musicians.
Tha Dogg Pound, were an integral part of the Death Row records family and were a major key to the label's success, making them one of the most recognisable and important duos in West Coast hip-hop history. Consisting of Daz Dillinger and Kurupt, the two first made their appearance on Dr. Dre's highly acclaimed debut album 'The Chronic' and on the 'Poetic Justice' soundtrack. Later they appeared on Snoop Dogg's debut album 'Doggystyle'. Their first album 'Dogg Food' was released in 1995, and the duo continued to appear on numerous Death Row albums including 2Pac's seminal release 'All Eyez On Me', and Snoop Dogg's album 'Tha Doggfather'. Both artists went on to have successful solo, writing and production careers working with artists including The Game, Ty Dolla $ign, Dr Dre, Miguel, Snoop Dogg and Lil Wayne to name but a few, and continue to make classic music together to this day.