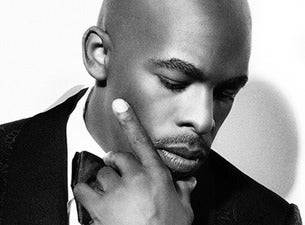 R&B/Urban Soul
Joe Tickets
Events
We're sorry, but we couldn't find any events
About
Able Touring is thrilled to announce that JOE, legendary American R&B singer and record producer, is coming to Australia for three explosive shows in September.
JOE has been a staple of the R&B scene for over fifteen years. His smooth and sultry R&B tones with occasional hip-hop beats have earned JOE a hugely successful career. He has released eight studio albums with countless platinum and gold sales and which have produced a massive seven Grammy Award nominations.
Influenced by love soul legends such as Stevie Wonder and Marvin Gaye, as well as contemporary stars such as Bobby Brown and Keith Sweat, JOE writes songs that speak to the core of every relationship and is a particular favourite with the ladies, who go wild at his live shows. As a musician, songwriter and today as a label executive, Joe stands firm in delivering audiences his unique style.
JOE's second album All That I Am proved to be his breakthrough album, going platinum in the US and producing the hits 'All the Things Your Man Won't Do' and 'Don't Wanna Be a Player' from the Booty Call Soundtrack.
His next album, My Name Is Joe, went on to become his most successful album to date, selling more than three million copies and launching JOE into the international market and producing the hits 'I Wanna Know' and 'Stutter'.
Since then, JOE has released five more hit albums. The album, And Then..., featured the single "Ride Wit U" with G Unit, another smash hit that fans still can't get enough of.
JOE has collaborated with superstars including Mariah Carey, Keith Sweat, Nas and Fabolous and has produced / worked with artists including Barry White, Tina Turner and R.Kelly.
A new album, The Good, The Bad, The Sexy will be available on August 31. It features a great comeback single, 'Closer', a soulful-gospel number destined to be a success.
JOE toured Australia four years ago and his sell-out shows left fans with no doubt as to why he continues to be one of the best R&B artists in music today. Due to demand, JOE is back and will be performing all his hits plus tracks from his new album in an amazing two hour set. This night of soul, funk, R&B and hip hop is an essential show for all R&B fans!