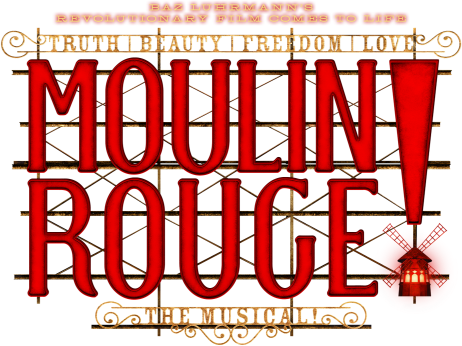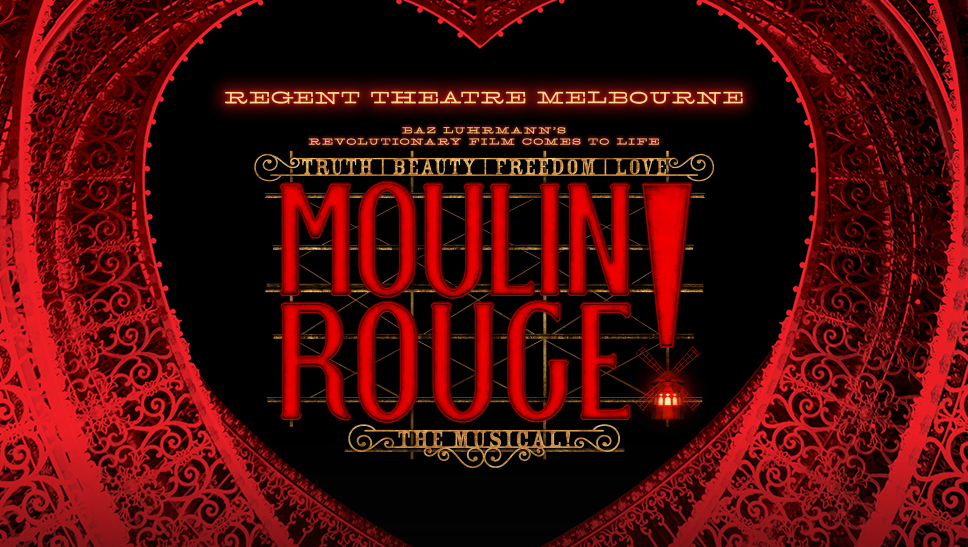 Enter a world of splendour and romance, of eye-popping excess, of glitz, grandeur and glory! A world where Bohemians and aristocrats rub elbows and revel in electrifying enchantment. Pop the champagne and prepare for the spectacular spectacular...

Welcome to Moulin Rouge! The Musical

WINNER OF 10 TONY AWARDS® including Best Musical, Baz Luhrmann's revolutionary film comes to life onstage, remixed in a new musical mash-up extravaganza featuring over 70 songs including many of the iconic hits from the movie, as well as additions from Adele, Katy Perry, Sia, Beyonce, Rihanna and more.

A theatrical celebration of truth, beauty, freedom, and - above all - love, Moulin Rouge! is more than a musical; it is a state of mind.

"Dazzling...sumptuous and marvellous...dynamic and technically flawless...every performer is worth their weight in diamonds"
TIME OUT

"You don't just go to see Moulin Rouge!, you enter its world"
SYDNEY MORNING HERALD

"The energy and thrill is contagious"
DAILY TELEGRAPH

"A killer score including 70 of the best pop songs ever written"
SUNDAY TELEGRAPH


IS THERE A COVID-19 SAFE PLAN IN PLACE AT THE THEATRE?
Nothing is more important than the health and safety of all that visit us. The Capitol Theatre is operating in accordance with NSW Health Guidelines and their COVID Safety Plan. These protocols and requirements may change based on advice from NSW Health, so please be sure to visit this page prior to your visit for the most up to date information:
capitoltheatre.com.au/covid-safety-info
WHAT ARE CAN CAN! TABLE SEATS?
DO I HAVE TO WEAR A MASK?
Masks are to be worn at all times in the Can Can! Table seating area due to the close proximity to the performers.
Click here
for the latest information about COVID safety protocols when attending events at the Capitol Theatre.
WHERE CAN I BUY TICKETS FOR MOULIN ROUGE! THE MUSICAL?
Ticketmaster is the only authorised ticket seller for the Sydney season, and this includes purchases of special seats and packages such as Can Can! Table Seating and The Capitol Class VIP Packages.
Click here to access tickets
. We strongly recommend that you do not purchase tickets from any other website or unauthorised re-sellers (such as eBay, Viagogo, Facebook Marketplace or Gumtree) as these tickets may not be genuine, and may be charged at inflated prices. Many unofficial sellers will list tickets for sale, even though they do not actually have those tickets. This is called "speculative ticketing". They are speculating that they will be able to get tickets and then resell them to fans. Those speculative listings are not real tickets in hand (they do not actually have tickets to sell). To eliminate the risk of fraud, you are advised to purchase tickets from moulinrougemusical.com or ticketmaster.com.au as purchasing a ticket from an unauthorised seller can result in the ticket holder being denied entry. In NSW it is illegal to resell a ticket for more than 110% of the face value of the ticket, as regulated by
NSW Fair Trading
. You purchase tickets from unauthorised ticket sellers solely at your own risk. The Capitol Theatre is under no obligation to honour tickets which are deemed invalid for any reason and you may be refused entry. Tickets are dispatched within 72 hours of the performance date. Ensure your Ticketmaster account has the correct email and mobile phone number for tickets to be sent to or collect your tickets at the box office prior to the performance time.
WHAT IS THE TICKETING PRICE RANGE?
Tickets range from $69 to $299, plus a Ticketmaster transaction fee of $9.40 per booking applies.
CAN I EXCHANGE MY TICKETS?
WHAT HAPPENS IF I AM REQUIRED TO ISOLATE OR STAY HOME?
If you or someone in your group have been directed to stay home by NSW Health, please
contact Ticketmaster online
(or by calling 1300 558 878 and pressing option 1) as soon as you are aware that you are not able to attend your booked performance and they will do their best to assist you in processing an exchange into a future performance. The deadline to contact Ticketmaster is Midday (for an evening performance) & 10am (for a matinee performance). ***You are required to submit a screen shot of your PCR text message confirming Covid-19 positive results or a screen shot showing you have registered your Covid-19 RAT results with the NSW Government via your Service NSW account.*** Please note, Ticketmaster call centre operating hours are Mon-Sun 9am-5pm and there are no exchanges or refunds on TodayTix Lottery tickets.
ARE GROUP BOOKINGS AVAILABLE?
Groups of 12 or more can book via the Ticketmaster Group Bookings Department:
groups@ticketmaster.com.au
. Extended booking periods and special rates on selected performances are available as well as School Group allocations and Teacher ticket allotments.
Click here for more information
.
IS THERE ACCESSIBLE SEATING AVAILABLE?
Yes. If you have trouble negotiating stairs, please book your seats in the Stalls. There is ramp access available via Door 2 or Doors 3-5 only have approx. 4 steps (with access to a handrail). You can book these tickets online via Ticketmaster Australia. Please note, most of the seats in the Dress Circle have many stairs to negotiate. For wheelchair and companion card bookings, please call (02) 9320 5000 Monday - Friday, 9am-5pm.
HOW LONG IS THE SHOW RUNNING IN SYDNEY?
Ticketmaster's website will detail all performances currently on-sale.
Sign up
to receive information about new ticket releases.
IS THERE AN AGE MINIMUM?
The show is recommended for children 12 years of age and over.
WHAT IS THE DURATION OF THE PERFORMANCE?
The show running time is 2 hours and 35 minutes including a 20-minute interval.
ARE THERE STROBE LIGHTS DURING THE PERFORMANCE?
Yes.
ARE THE DISCOVER NSW AND PARENT NSW VOUCHERS ACCEPTED AT THE CAPITOL THEATRE?
Yes, the Discover NSW and Parent NSW Vouchers can be used towards the purchase of tickets to any performance of
Moulin Rouge!
The Musical at the Capitol Theatre but must be redeemed in person at the Capitol Theatre box office before the expiry date as per each voucher. It's as simple as visiting the Capitol Theatre Box Office in person (Mon-Fri 9am-5pm) and having a valid Discover or Parent Voucher available to be scanned. Please note, Box Office cannot assist with general ticket sales 1 hour prior to weekday matinees and accepts cashless payment only. All terms and conditions of the Dine and Discover NSW and Parent NSW vouchers apply and can be found on the
Service NSW app
.
Please note tickets are not available until within 72 hours of the performance date.
Ensure your Ticketmaster account has the correct e-mail and mobile phone number for tickets to be sent to or collect your tickets at the box office prior to the performance time.
DO I NEED TO BE VACCINATED?
Click here
for the latest information about COVID safety protocols when attending events at the Capitol Theatre.




© 2022 Global Creatures. Moulin Rouge® is a registered trademark of Moulin Rouge.