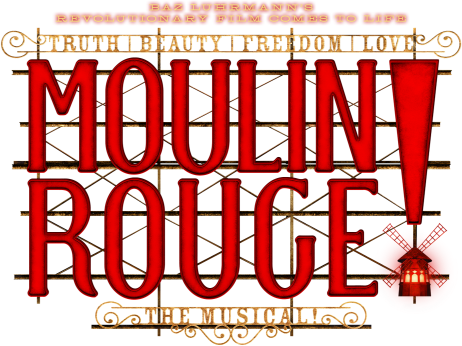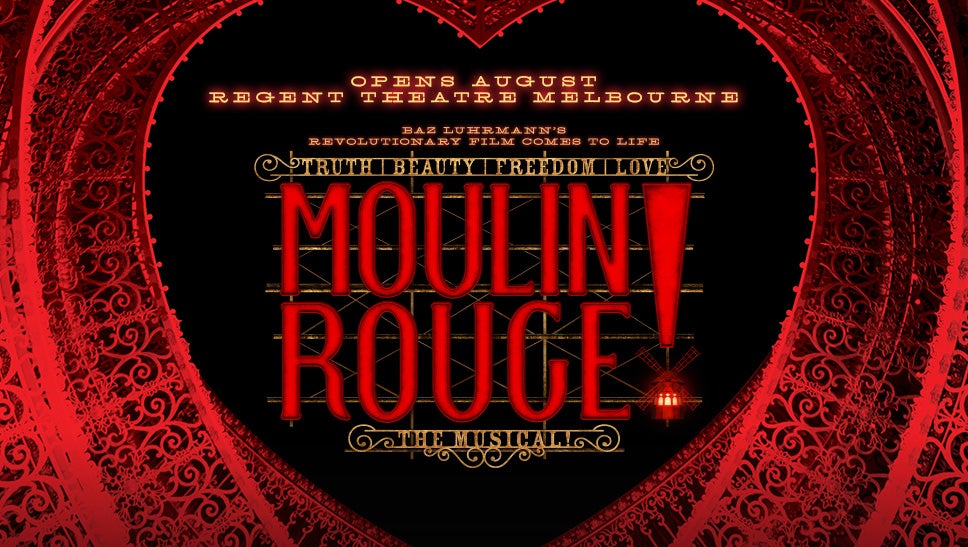 Baz Luhrmann's iconic film MOULIN ROUGE! is now a Broadway sensation, and this August, Moulin Rouge! The Musical is coming to Melbourne's Regent Theatre.

Nominated for 14 Tony Awards® this new musical mash up extravaganza features over 70 songs including many of the iconic hits from the movie, as well as additions from Adele, Katy Perry, Sia, Beyonce, Rihanna and more.

A celebration of Truth, Beauty, Freedom and - above all - Love, Moulin Rouge! is more than a musical; it is a state of mind.
WILL THE THEATRE HAVE A COVID-19 SAFE PLAN IN PLACE?
Marriner Group (who operate the Regent Theatre) currently have measures in place as recommended by the Victorian Government, with the
COVID Safe plan
being updated with any changing regulations
WHERE CAN I BUY TICKETS FOR MOULIN ROUGE! THE MUSICAL?
Ticketmaster is the only authorised ticket seller for the Melbourne season, and this includes purchases of special seats and packages such as Can Can Table Seating and The Bohemian VIP Experience.
Click here
to access tickets.
We strongly recommend that you do not purchase tickets from any other website or unauthorised re-sellers (such as eBay, Viagogo, Facebook Marketplace or Gumtree) as these tickets may not be genuine, and may be charged at inflated prices. You purchase tickets from unauthorised ticket sellers solely at your own risk. The Regent Theatre is under no obligation to honour tickets which are deemed invalid for any reason and you may be refused entry.
Tickets are dispatched electronically 72 hours in advance of the performance date directly to your Ticketmaster account. Please ensure your Ticketmaster account has the correct email and mobile phone number.
MAJOR EVENT DECLARATION
To eliminate the risk of fraud, you are advised to purchase tickets from moulinrouge.com or ticketmaster.com.au, as purchasing a ticket from an unauthorised seller can result in the ticket holder being denied entry. Many unofficial sellers will list tickets for sale, even though they do not actually have those tickets. This is called "speculative ticketing ". They are speculating that they will be able to get tickets and then resell them to fans. Those speculative listings are not real tickets in hand (they do not actually have tickets to sell). Beware of these sellers. Moulin Rouge! The Musical is subject to a major event declaration under the Major Events Act 2009. It is an offence for a Moulin Rouge! The Musical ticket to be sold, or offered or advertised for resale, at a price exceeding its face value purchase price by more than 10%, unless the seller is authorised in writing by the ticketed event organiser. Breaches can result in heavy fines of up to $96,714 for an individual and $483,570 for a company. For queries regarding the Major Events Act, contact
fairgo.forfans@ecodev.vic.gov.au
WHAT IS THE TICKETING PRICE RANGE?
Tickets range from $59 to $299, plus a Ticketmaster transaction fee of $9.35 per booking applies.
WHEN WILL I GET MY TICKETS?
Tickets are dispatched 72 hours in advance of the performance date. Please ensure your Ticketmaster account has the correct email and mobile phone number as all tickets will be delivered electronically.
WHAT ARE CAN CAN! TABLE SEATS?
Can Can! Table Seats are extremely close to the stage and surrounded by the action. Detailed information about Can Can! Table Seating can be
found here
.
CAN I EXCHANGE MY TICKETS?
WHAT HAPPENS IF I GET COVID-19 SYMPTOMS?
Even you have the most minor of symptoms of cold or flu, please do not attend Moulin Rouge! The Musical. Refer to our
Exchange Policy
to attend the show on another date.
ARE GROUP BOOKINGS AVAILABLE?
Groups of 12 or more can book via the Ticketmaster Group Bookings Department:
groups@ticketmaster.com.au
. Extended booking periods and special rates on selected performances are available as well as School Group allocations and Teacher ticket allotments. Click here for more information.
IS THERE ACCESSIBLE SEATING AVAILABLE?
Yes, we have accessible seating and companions available online or alternatively please contact the Box Office on (03) 9299 9800. Only the Stalls area of the Regent Theatre can be accessed without steps.
HOW LONG IS THE SHOW RUNNING IN MELBOURNE?
Ticketmaster will detail all performances currently on sale.
Sign up
to receive information about new ticket releases.
IS THERE AN AGE MINIMUM?
The show is recommended for children 12 years of age and over.
WHAT IS THE DURATION OF THE PERFORMANCE?
The show running time is 2 hours and 35 minutes including a 20-minute interval.
ARE THERE STROBE LIGHTS DURING THE PERFORMANCE?
Yes.