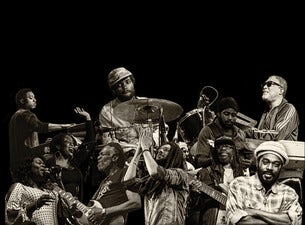 World Music
The Wailers Tickets
Sorry... there are currently no upcoming events.
About
When Bob Marley instructed 'Familyman' Barrett to 'keep The Wailers together' he made it his life's dedication.  
Performing songs from Legend - the best selling reggae album of all time, spending 992 weeks on the Billboard Charts - as well as all the huge hits from Bob Marley's incredible back catalogue; The Wailers conjure the spirit of reggae and the essence of the 70s rebellion performed by the people who helped forge the era-defining sound and by those raised under their tutelage. 
Featuring  a stunning line-up of genuine reggae royalty – including heir to the throne, Aston Barrett Jr (son of the legendary 'Familyman'), keyboardist Tyrone Downie, and Saxophonist Glen DaCosta; with Josh David Barrett achieving the seemingly impossible by stepping into Bob Marley's shoes on lead vocal. 
Supporting The Wailers will be Bobby Alu. Amidst smooth harmonies, rhythms inspired by a strong family lineage of Polynesian performance, and unassuming grooves that work a gradual, smile inducing high through even a casual listen, Bobby Alu tunes have a way of sneaking into the subconscious and taking up residence.
Experience a real slice of musical history and heritage from those who keep the flame of Bob Marley alive.