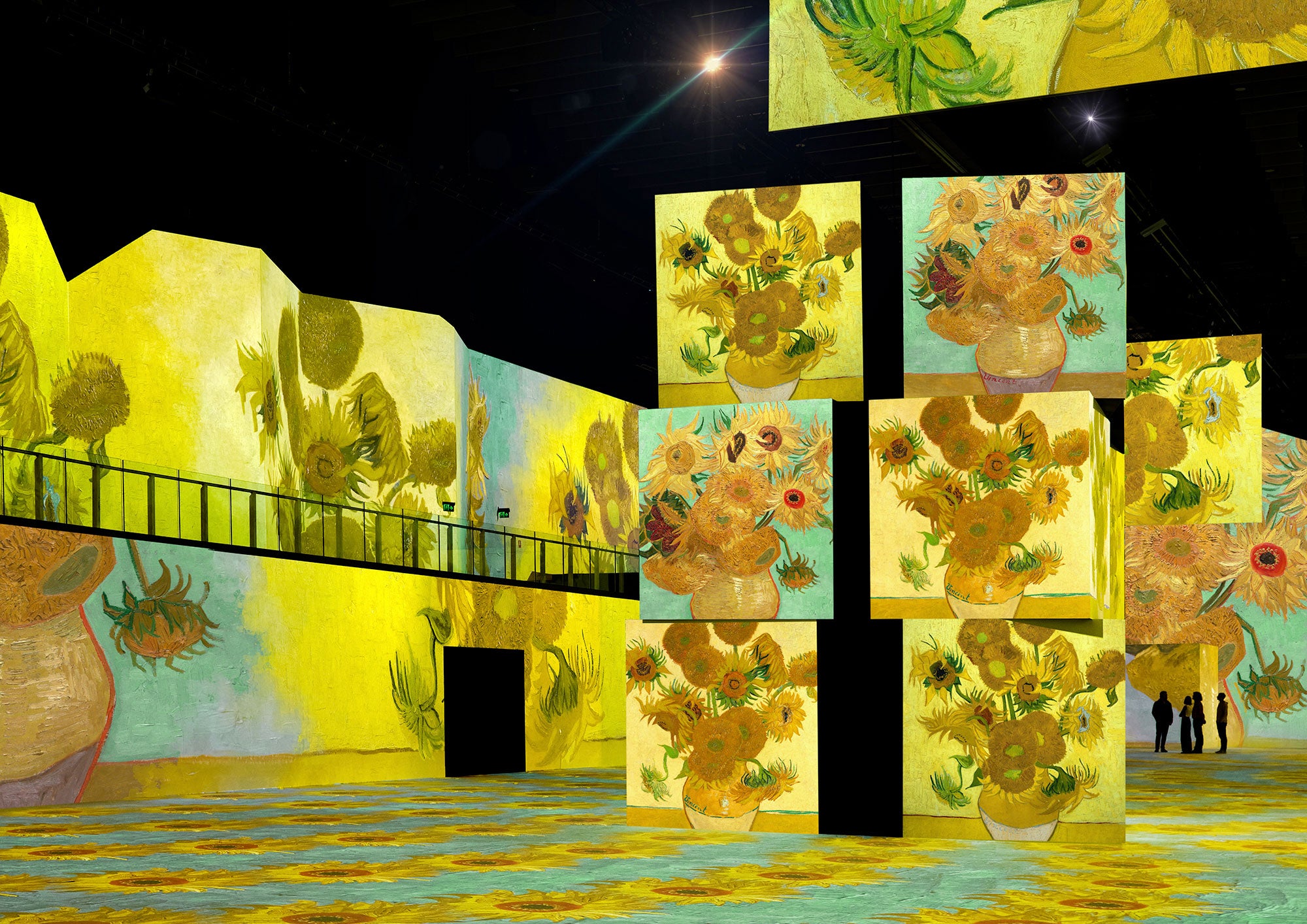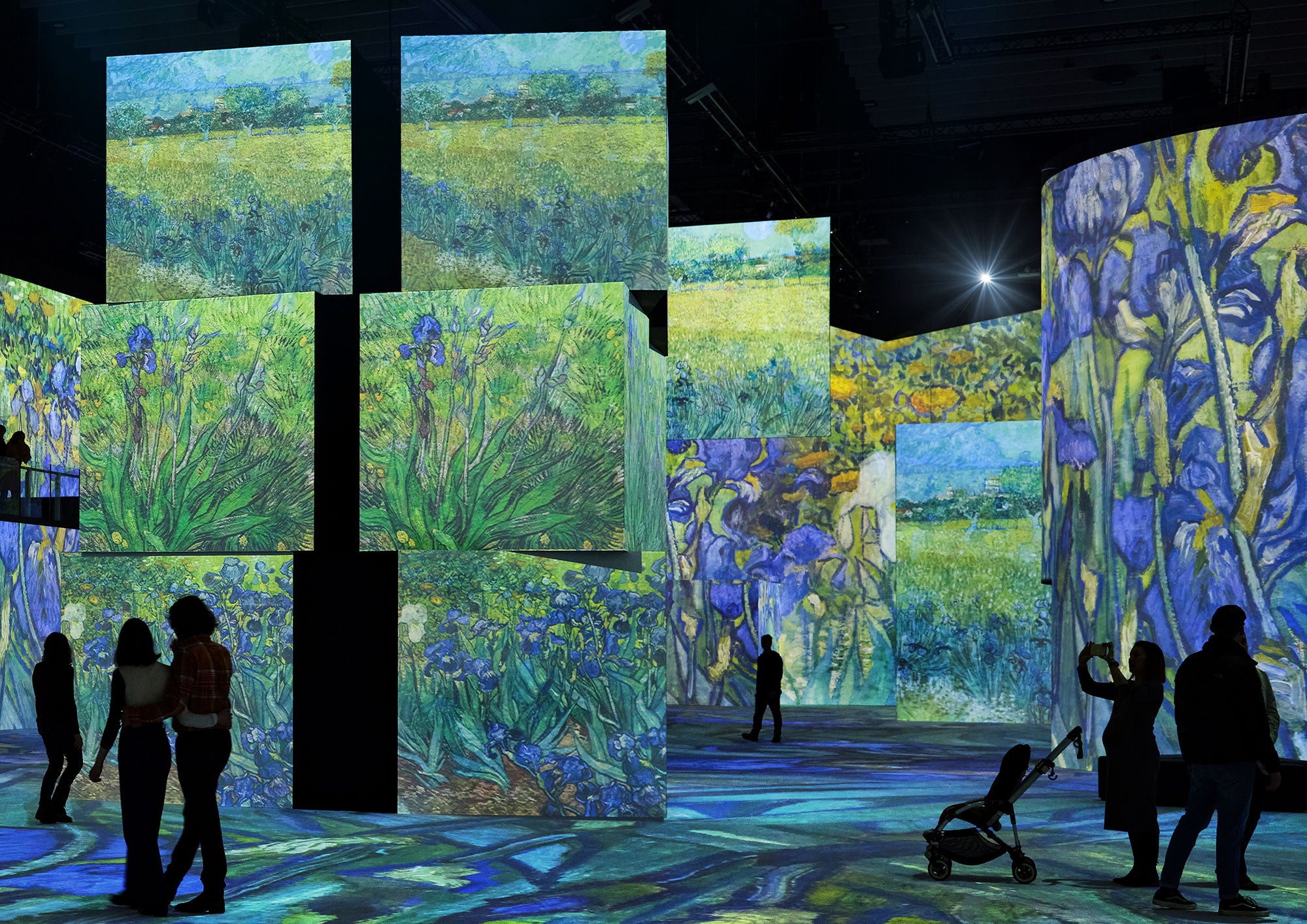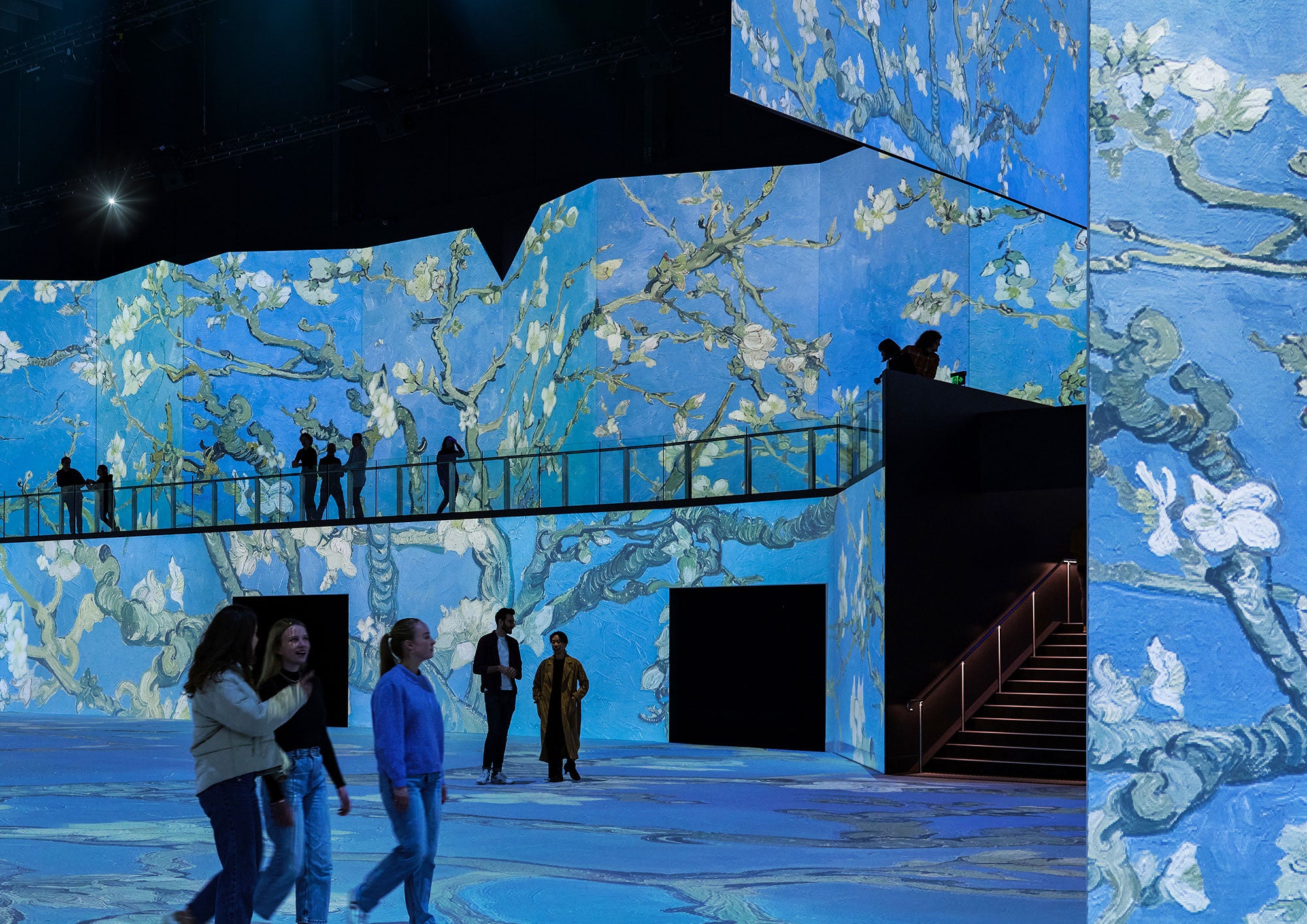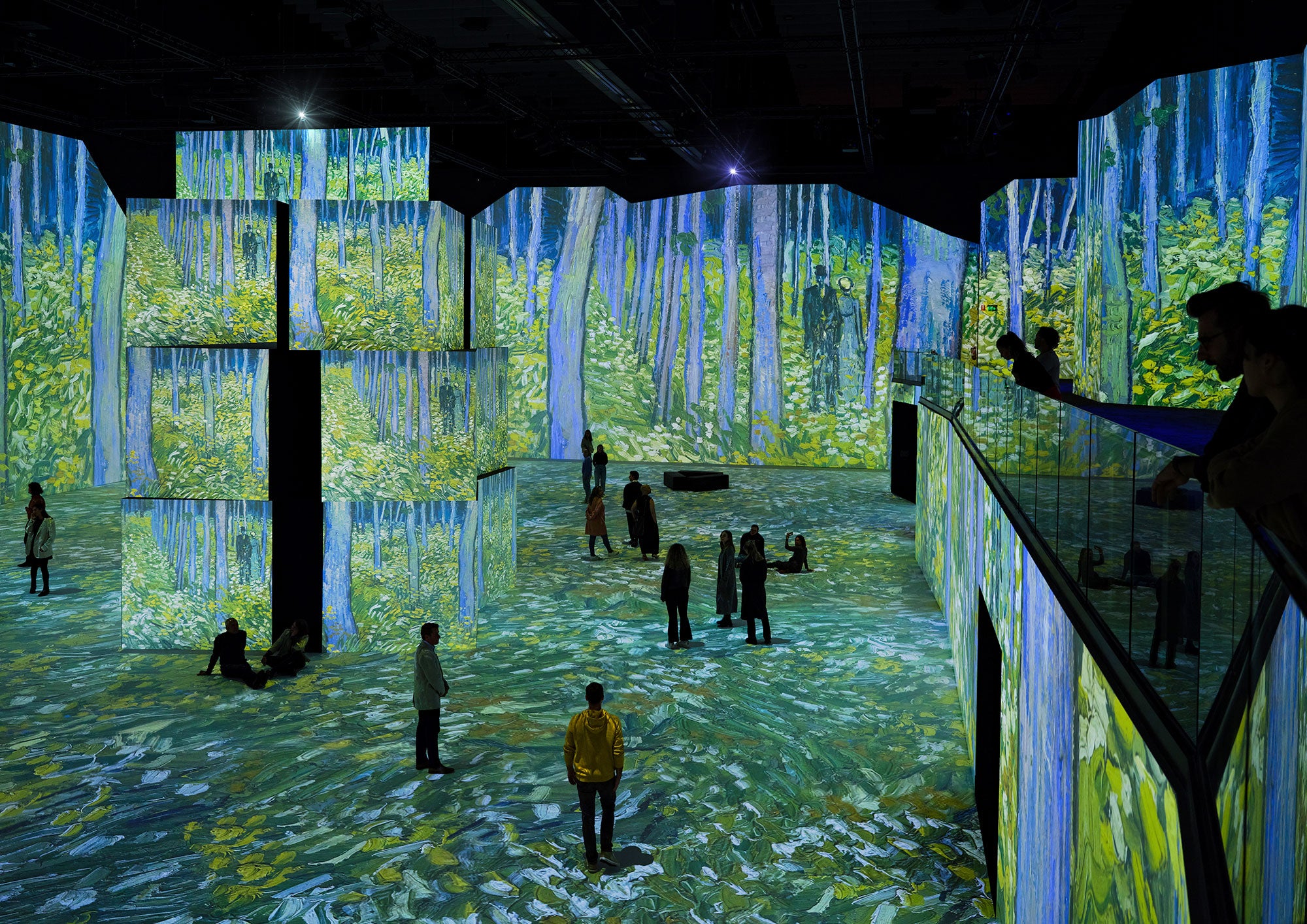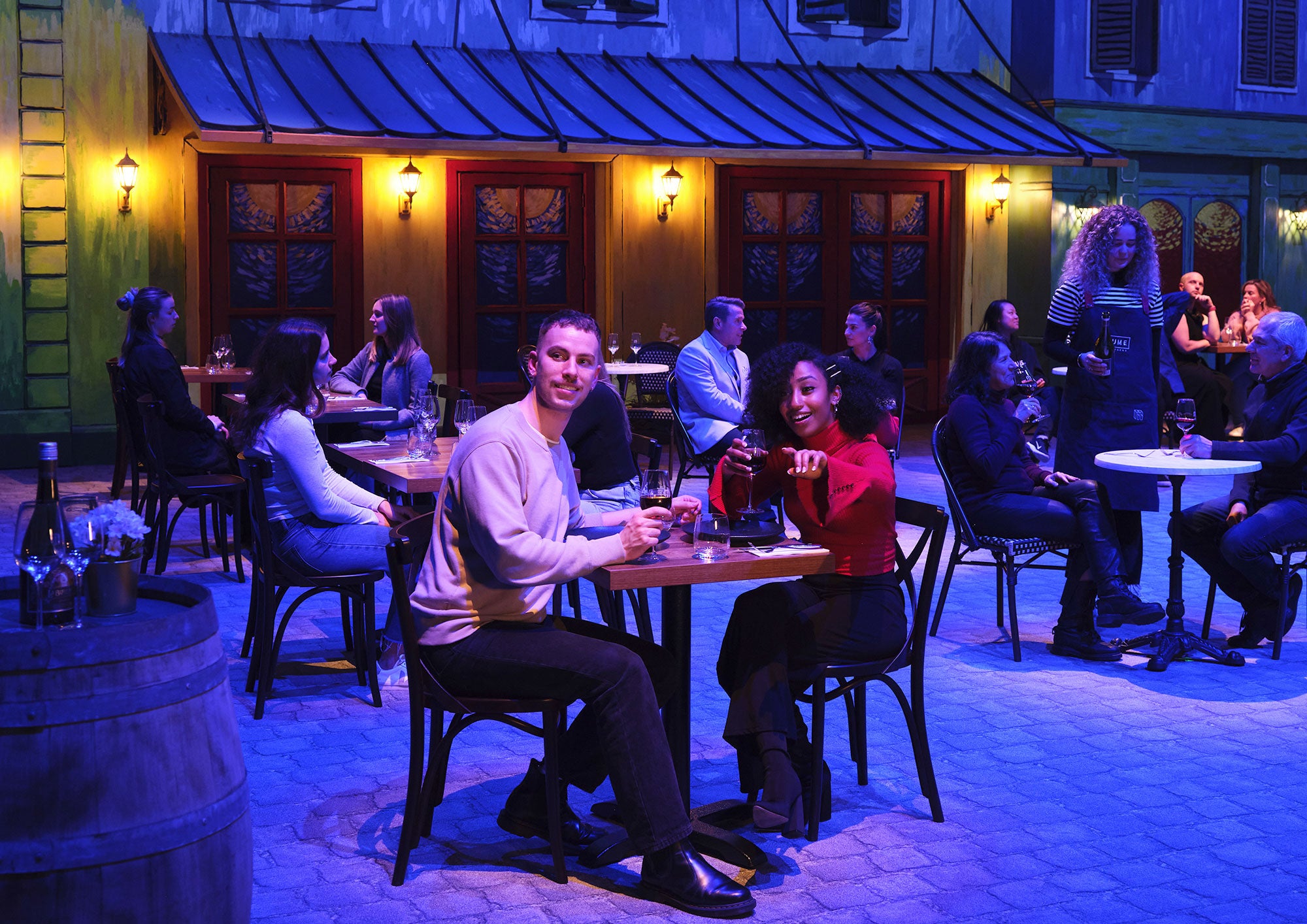 GET TICKETS
Permanently located within the Melbourne Convention and Exhibition Centre, THE LUME Melbourne welcomes visitors this September to their inaugural experience, Van Gogh, an epic adventure into art.

THE LUME Melbourne, Australia's newest cultural attraction, showcases the world's finest art on an epic scale. Explore, play, dance and marvel as every surface becomes an animated canvas. Masterpieces spring to life from floor to ceiling, providing visitors the unique opportunity to be immersed in the artistry and the world of Vincent van Gogh, through the eyes of this renowned artist.

Step inside Van Gogh's famous Bedroom in Arles or be surrounded by his shimmering Starry Night while indulging in the flavours of 19th century France at our reimagined Café Terrace 1888. Curated tastes, evocative aromas, captivating imagery and a stirring soundscape weave together seamlessly to create a one-of-a kind visitor journey.
EXPLORE THE EXPERIENCE
TICKET PACKAGES
VINCENT VIP PACKAGE
Indulge in our special Vincent VIP Package to make your experience truly unforgettable. The Vincent VIP Package includes your ticket for entry, front of the line access, a collectable program and a $12 drinks voucher redeemable at the Café Terrace 1888.
GET TICKETS
PRE-PURCHASE SOUVENIR PROGRAMS
Pre-purchase your souvenir program and collect on arrival.

Add to your order in the checkout process
PARK FOR $12 WHEN YOU VISIT THE LUME MELBOURNE
Pre-purchase your parking through Ticketmaster or collect a validation ticket at the Information Desk to discount your parking at the South Wharf Retail Car Park or the Melbourne Exhibition Centre Car Park.

Add to your order in the checkout process
FREQUENTLY ASKED QUESTIONS
WHAT YOU NEED TO KNOW BEFORE VISITING
WHAT ARE THE OPENING HOURS OF THE LUME?
WHAT ARE THE OPENING HOURS OF THE LUME?

THE LUME Melbourne is open seven days a week.
Our Standard Opening Hours are:
Monday - Thursday: 10am - 8pm
Friday: 10am - 9pm
Saturday: 9am - 9pm
Sunday: 9am - 8pm


Opening and closing times are subject to change, please check times on the date you wish to attend.
WHERE IS THE LUME LOCATED WITHIN THE MCEC?
The LUME Melbourne is located at Melbourne Exhibition Centre, 5 Convention Centre Place, South Wharf. It is next to the Novotel Hotel and across the road from DFO South Wharf. The closest entry doors are located at the top of the roundabout. Once inside the building, you will find The LUME located next to Door 17. Please follow all directional signage or reach out to one of the friendly customer service staff for further guidance.
DO I NEED A TICKET?
Yes, ticket bookings are essential.

We strongly recommend you book tickets online in advance. Some sessions, particularly during school holidays, can be heavily booked. To ensure a comfortable and safe visit for all visitors, access to THE LUME is by timed entry.
WHAT ARE THE TICKET PRICES?
Ticket prices and sessions times vary according to the time and date booked. Prices will vary for peak periods such as school holidays, and additional transaction fees may apply. Best rates and availability can be found during our mid-week sessions, and in non-school holiday periods.

Ticket prices start at:
$39 - $54 for Adults
$36 - $51 concession (seniors, pensioners and students)
$29 - $41 for children (youth) ages 4-17*
Free tickets for children 0-3 years old can be added to your booking online. All children must be accompanied by an adult.


* 'Adult Date Night' sessions are available from Friday to Sunday from 7pm. Child prices are not available in these sessions.

It is important that you only buy tickets from our authorised ticketing agent, Ticketmaster. Do not purchase tickets from third-party resellers such as Viagogo as we are unable to verify the legitimacy of such tickets, and entry may be denied.
CAN I BUY TICKETS AT THE VENUE?
There are self-service points of sale and a service counter at the venue, however advanced bookings are recommended as some sessions may sell out. THE LUME accepts cashless payments only.
WHEN SHOULD I ARRIVE?
Please arrive 15 minutes prior to the time displayed on your entry ticket to allow for QR registration before access. Due to the popularity of the experience, we may not be able to accommodate you if you arrive outside your ticketed session.
ARE THERE VAN GOGH PAINTINGS ON DISPLAY IN THE VENUE?
The experience is not an art exhibition in the traditional sense and there are no physical original works by Vincent van Gogh on display.

It is an immersive multimedia art experience which combines high-definition projections of Van Gogh's paintings with digital surround sound, projected at a scale of 11m high which offers visitors the ability to see the details of the artist's work unlike ever before. More than 3,000 images transform every wall and floor surface.
WHAT IS THE BEST WAY TO SEE THE EXPERIENCE?
We encourage you to move around freely to view THE LUME from different perspectives. You can sit on the floor or stand against the walls, always being mindful of other visitors in the venue.
WHICH SCENTS ARE DIFFUSED DURING THE EXPERIENCE?
Fragrances and scents are diffused within THE LUME curated to complement and enhance your experience. The scents contain elements associated with Provence in southern France: Cypress from the trees that Van Gogh frequently painted mixed with Lemon/Cyrus that has a fresh, bright feeling associate with sunlight and summer.
IS IT SUITABLE FOR CHILDREN?
Yes. There is no minimum age to visit the experience. However, we do have 'Adult Date Night' sessions available from Friday to Sunday from 7pm. Child prices are not available in these sessions.
ACCESSIBILITY AT THE LUME - CAN I ACCESS WITH A STROLLER OR WHEELCHAIR?
You can Yes, the venue is suitable for strollers and is wheelchair accessible.
Please check here for more information on Accessibility
or contact Ticketmaster's hotline for THE LUME Melbourne on 1300 553 265 to purchase your accessible tickets with a free companion ticket on the provision of a companion card. Service Hours: 7 days 9:00am to 5:00pm
THE LUME experience does not include smoke, haze or strobe lights. While the projected images and animations within the experience are slow-moving, if you are sensitive to moving light or have been diagnosed with photosensitive epilepsy, please be advised that the some moving light may trigger seizures in some people. If you are feeling unwell please let our friendly staff know.
CAN I TAKE PHOTOS AND VIDEOS?
Yes, you are more than welcome to take photos and videos inside the experience. Please be considerate of other visitors when taking photos. If you post them in social media use the hashtag #thelumemelbourne so more people can see the experience through your eyes. Please be advised that flash photography is not permitted inside THE LUME. Commercial photography or video is not permitted at THE LUME without prior written permission. If you are planning to film in or around the venue,
please contact us
.
WHAT IF I AM SICK ON THE DAY OF MY VISIT?
If you have cold or flu like symptoms on the day you are due to attend your session, then please do not attend the venue. Please contact Ticketmaster via the My Account Help page to discuss your options.
CAN I EXCHANGE DATES?
ARE FOOD AND DRINKS AVAILABLE INSIDE THE VENUE? AM I ALLOWED TO BRING MY OWN?
Yes, food and beverages will be available inside the venue at Café Terrace 1888. The menu reflects classic French café culture with a nod to Dutch cuisine. Small bites, light meals, share plates, children's dishes, and indulgent desserts will feature, alongside a comprehensive selection of alcoholic and non-alcoholic beverages. Bookings are not required, THE LUME accepts cashless payments only.

No outside food or beverage can be consumed inside the venue.
CAN I BRING IN BAGS? WHAT ITEMS ARE PROHIBITED?
We encourage visitors to leave bags at home and to avoid bringing any large items.
Bags may be visually inspected at entry by THE LUME Staff and may be required to be cloaked at the
MCEC cloakroom.
The following items are prohibited:
Food & Beverage including Alcohol
Illegal substances including controlled, dangerous or illicit drugs
Flammable devices (flares, fireworks and smoke bombs)
Anything that could be used as a weapon such as sharp items including knives
Suspicious items or items which may look like a weapon
Professional cameras or recording devices
Laser pointers
Offensive signage or clothing
Drones or unmanned aerial vehicles (UAVs)
Any other item that may cause harm or public nuisance or could interfere with others in the venue
WHAT ELSE DO I NEED TO KNOW ABOUT MY VISIT?
ARE SCHOOL OR GROUP DISCOUNT TICKETS AVAILABLE?
Discounted school and group tickets are available for groups 12+.
For groups of 12+ please book via the Ticketmaster website.
To book your school and groups of 30+ please
click here