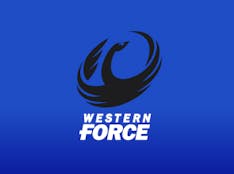 Rugby Union
Western Force Tickets
Sorry... there are currently no upcoming events.
About
The Western Force is aiming for greatness in 2023. The pre-season has focused on fitness and skills that will bring grit and a never-say-die attitude to every game.
The new coaching panels for the Super Rugby Pacific and Super W will settle for nothing more than 100%.
Appointing the Super Rugby Pacific Head Coach, Simon Cron whose leadership style demands a second to no one attitude from the squad every day. Along with Simon, there are three new appointments to the men's coaching panel, Defence Coach Will Eggleston, Forwards Coach Jimmy Duffy, and Head of Performance Simon Thomas. Along with Attack Coach Mark Ozich the high-performance staff are working as a formidable force. The continued drive to form a strong connection with each player creates a united squad, allowing the unit to push forward as one. 
Similarly, the Super W program continues to advance the professional game. The Force is the first team in Australian Super Rugby to appoint a Female High-Performance Manager. Claudia Bell has taken this program to a level of professionalism unseen before. Along with the newly appointed Super W Head Coach, Matt Hodgson, the squad is sure to bring the hard-hitting action we saw in 2022 back to the field.
In 2023, the Super Rugby Pacific and the Super W will bring excitement and a winning attitude. HBF Park is built for rugby! Nothing beats watching some of the biggest hits in sport so close you can hear the crunch and FEEL THE FORCE!