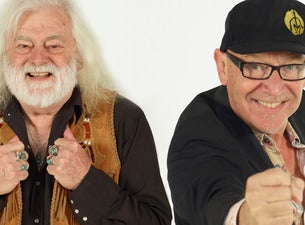 Rock and Pop
Brian Cadd Tickets
Events
We're sorry, but we couldn't find any events
About
CADD & MORRIS
Brian Cadd & Russell Morris
After a 7 year break from touring together they reunite to perform a limited amount of shows
Australian music icons, BRIAN CADD and RUSSELL MORRIS, have been friends for over forty years and have been touring together from time to time over the past decades and are back after a 7 year break to perform a limited amount of shows.
Together, Brian and Russell deliver a dynamic show of not only their hits: "Little Ray of Sunshine", "Ginger Man", "Don't you know its Magic" BRIAN CADD & "Real Thing", "Sweet Sweet Love", "Wings of an Eagle" RUSSELL MORRIS, but also a selection of seventies rock classics that will have the audience singing along with them. They may arrive on stage as 60 year old mates but they turn themselves, and their audience, truly back to 20 year old rockers.
Their show is a relentless sequence of hit songs, laughter and mockery. Never scared to take a jab at each other, on or off the stage, they now know each other affectionately as "The Turtle without a Shell" and "The Cheshire Cat". You figure out which is which!!
Brian Cadd said "It is rare and enjoyable to spend ninety minutes on the stage every night with someone who has travelled the same musical road and number of years as I have. It makes the musical highlights, the songs and the silliness all that much more fun. Come and see what we mean!"
Don't miss 2 legends of Australian Music at a show near you…
Also appearing special guest JR Reyne