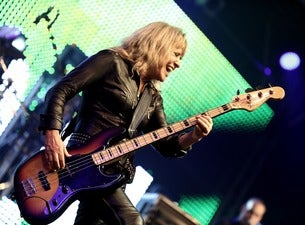 Rock and Pop
Suzi Quatro Tickets
Australia
24/2/24

Port Macquarie, NSW

Port Macquarie - Westport Park

Red Hot Summer Tour 2024 - Suzi Quatro, Cheap Trick & more

25/2/24

Southport, QLD

Broadwater Parklands

Red Hot Summer Tour 2024 - Suzi Quatro, Cheap Trick & more

2/3/24

Berry, NSW

Berry Showgrounds

Red Hot Summer Tour 2024 - Suzi Quatro, Cheap Trick & more

3/3/24

Bella Vista , NSW

Bella Vista Farm

Red Hot Summer Tour 2024 - Suzi Quatro, Cheap Trick & more

9/3/24

Toowoomba, QLD

Toowoomba - Queens Park

Red Hot Summer Tour 2024 - Suzi Quatro, Cheap Trick & more

10/3/24

Sandstone Point, QLD

Sandstone Point Hotel

Red Hot Summer Tour 2024 - Suzi Quatro, Cheap Trick & more

16/3/24

Newington, VIC

Victoria Park - Newington

Red Hot Summer Tour 2024 - Suzi Quatro, Cheap Trick & more

17/3/24

Coldstream, VIC

Rochford Wines

Red Hot Summer Tour 2024 - Suzi Quatro, Cheap Trick & more

20/3/24

Fremantle, WA

Fremantle Prison

Suzi Quatro, Cheap Trick and The Angels

21/3/24

Fremantle, WA

Fremantle Prison

Suzi Quatro, Cheap Trick and The Angels

23/3/24

Seppeltsfield, SA

Seppeltsfield Barossa

Red Hot Summer Tour 2024 - Suzi Quatro, Cheap Trick & more
About
The undisputed Queen of Rock, SUZI QUATRO, will be returning for her 38th tour of Australia in 2024 to headline a new series of the Red Hot Summer Tour. There are few female performers who have a career as successful and versatile as SUZI QUATRO.  After decades of accomplishments, it's no surprise to find out that she has never stopped working in one guise or another, whether it is playing her solo rock show to packed houses, hosting her own show on the BBC Radio 2, performing on the West End or penning hit songs. To date, this enigmatic performer has sold over 55 million records, in fact, for a seven-year period in the 1970s she was featured in the British charts for an incredible 101 weeks.  Her hits include 'The Wild One', '48 Crash', 'Devil Gate Drive', 'She's in Love with You' and 'If You Can't Give Me Love' to name a few.
2019 saw the released of her documentary, SUZI Q, and it topped the Amazon charts around the world.  In August this year, she released 'Face To Face', her duet album with KT Tunstall which has had huge success.  It picked up 'album of the year' presented by Jools Holland, album of the week on BBC radio 2 and over half a million plays in the USA.  It's been critically acclaimed and charted in many countries around the world. This year marks the 50th Anniversary of 'Can the Can' being No. 1 and SUZI will mark the occasion with 5 special shows in the UK.
About
Suzi Quatro is running hotter than ever! A new album "No Control" charting world-wide, and a career documentary "Suzi Q" in cinemas in October, Suzi has added 8 special shows to her "pedal to the floor" year. Suzi explains: "I want to strip everything back to the original sound, bass, drums, keys and guitar. It is exciting to be raw again, back to basics. This is what everyone signed on for!" All the hits, unbridled energy, powerhouse vocals, Suzi is a rocker who has perfected her craft over decades of touring, pure rock royalty, the Queen of Rock and Roll.