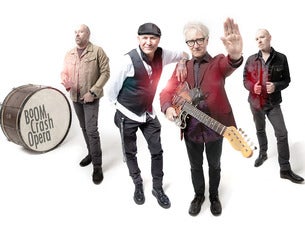 Rock and Pop
Boom Crash Opera Tickets
Events
08/10/2022

Caversham, WA

Sandalford Winery (Swan Valley)

Red Hot Summer Tour 2022

15/10/2022

Bella Vista , NSW

Bella Vista Farm

Red Hot Summer Tour 2022

16/10/2022

Kiama, NSW

Kiama Showground

Red Hot Summer Tour

11/11/2022

Prospect Vale, TAS

Country Club Tasmania

Boom Crash Opera with Dale Ryder

Pokolbin, NSW

Hope Estate

Hope Rocks
About
After an extended leave of absence from the band, Boom Crash Opera are celebrating the return of lead singer Dale Ryder to his rightful place at front of the stage.
On the back of a series of dates at The Palms at Crown with James Reyne in 2019, the band are ecstatic to announce their very own headline event at The Palms on June 19th 2020. 
Playing 2 sets of unadulterated hits from Boom Crash Opera's extensive catalogue of iconic tunes including but not limited to tracks from their ARIA Top 10 album These Here Are Crazy Times, featuring the hit singles Onion Skin, The Best Thing, Get Out Of The House, Talk About It, Dancing In the Storm, as well as the likes of Hands Up In The Air, Her Charity, Love Me To Death, Great Wall and Betta Daze. 
Likely the boys will delve deep into their treasure trove of musical gems to showcase some of the die-hard fan favourites such as Gimme, Mountain of Strength, Bombshell & City Flat and others from the Boom Crash Opera, Fabulous Beast & Gizmo Mantra releases.
Boom Crash Opera are: Dale Ryder, Peter (Bungie) Farnan, Peter (Maz) Maslen & John Favaro.