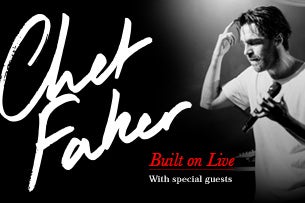 Rock and Pop
Chet Faker Tickets
Events
We're sorry, but we couldn't find any events
About
CHET FAKER 
ANNOUNCES SILICON, AWESOME TAPES FROM AFRICA, CLEOPOLD AND OTOLOGIC AS SPECIAL GUESTS FOR BUILT ON LIVE TOUR
With just over two months until Chet Faker's Built on Live tour kicks off, Frontier Touring are pleased to announce an array of incredible musicians and DJs to round out the line up. Hand-picked and approved by Chet Faker himself, Silicon, Awesome Tapes From Africa and Cleopold will join Faker at each of the East Coast shows in his biggest venues to date. Otologic will DJ between sets at the Melbourne and Sydney shows with a Brisbane DJ yet to be announced. 
Hailing from New Zealand, main support Silicon (aka Kody Nielson) is a multi-instrumentalist, vocalist and producer with a musical background stemming from his family roots - his father is a jazz musician and mother a Hawaiian hula dancer. His musical journey began with experimental noise band The Mint Chicks; he then formed Opossom with iconic singer songwriter Bic Runga; and most recently played a significant role co-writing, co-producing and playing keys and drums on Unknown Mortal Orchestra's third album Multi-Love of which his brother Ruban is singer, songwriter and guitarist. 
Now, under the moniker Silicon, he has so far this year treated us to three soulful, retro-futuristic electronica gems with 'God Emoji', 'Burning Sugar' and 'Cellphone'. His debut album Personal Computer will be released on 28 August (through Domino) and will be augmented by a simultaneous unveiling of a series of 29 paintings of Silicon's 'Emoji' icon subsequently leading to an exhibition in New York and London. Having performed for UK and European audiences, his live show promises to be an imaginative, diverse and de-linear musical journey. 
Beginning as a blog to bring the obscure and wonderful sounds of the African continent to public attention, Brian Shimkovitz's Awesome Tapes From Africa has developed into a critically acclaimed vinyl label, re-releasing records by African artists and solidifying his mission to take African music global. His DJ set, projected via twin tape decks, draws on this archive to bring highlife, fuji, benga, tsonga disco, soukous, hip-hop, rhumba and ethio-soul, among countless other genres to the audience. 
LA-based Australian singer-songwriter Cleopold crafts blunt, honest songs with confidence and sonic precision. He has penned tracks for Miami Horror and Cassian and collaborated with Bag Raiders and Chet Faker. His debut single 'Down In Flames' is the first taste from the artist who will release his debut EP through Chet Faker's own boutique label Detail Co this October. 
Melbourne DJ duo Otologic are responsible for keeping the audience abuzz in between sets at the Melbourne and Sydney shows.  Hailed as cult figures in Melbourne's underground scene, the duo throw their own parties and bring international talent to Melbourne, having played the coveted Meredith Music Festival closing slot, Splendour In The Grass, Rainbow Serpent, Dark Mofo, Strawberry Fields, Summadayze, Parklife, Stereosonic, Future Music Festival and more. 
This line up of eclectic support artists are sure to heat up the audience before the main event and certain to create a festival atmosphere at each show. Tickets to all shows are selling quickly. Don't miss out on your final chance to see Chet Faker in 2015 with an expanded band, some yet to be announced special guests and a few surprises along the way on the Built on Live Tour this October and November.