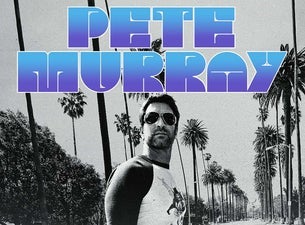 Rock and Pop
Pete Murray Tickets
Australia
6/1/24

Kiama, NSW

Kiama Showground

Red Hot Summer Tour 2024 - Jimmy Barnes & more

13/1/24

Mornington, VIC

Mornington Racecourse

Red Hot Summer Tour 2024 - Jimmy Barnes & more

20/1/24

Mannum, SA

Mary Ann Reserve

Sounds By The River - Jimmy Barnes & more

27/1/24

Batemans bay, NSW

Mackay Park

Red Hot Summer Tour 2024 - Jimmy Barnes & more

3/2/24

Pokolbin, NSW

Roche Estate

Red Hot Summer Tour 2024 - Jimmy Barnes & more

10/2/24

Ascot, VIC

Bendigo Jockey Club

Red Hot Summer Tour 2024 - Jimmy Barnes & more

17/2/24

Prospect Vale, TAS

Country Club Tasmania

Red Hot Summer Tour 2024 - Jimmy Barnes & more
About
Byron Bay singer-songwriter and one of Australia's most loved musicians, Pete Murray has today released his new single, Take Me Down, alongside the announcement of his sixth studio album, Camacho - available June 2. With over one million album sales to his name, the quiet achiever of Australian music will showcase new tracks and old favourites on an epic 32-date national Camacho Tour that will kickstart in Lismore on July 12 and finish up in Darwin on September 9.
Beat-driven and anthemic, Take Me Down cleverly reveals a new direction for Pete, yet still manages to feel like a catch up with an old friend - his smooth, familiar voice both warm and inviting. "Take me down is about a beautiful relationship with an unknown future," insights Pete. "It's about not knowing how much time is left and being in the moment. It's emotive, moody, sexual and vulnerable."
Determined to shake things up and find a fresh sound for the album, Pete explored different writing and recording techniques. "My main goal was to work with loops and beats and to have cool, phat drum sound," says Pete. He collaborated with hip hop producer Trials (AB Original) to achieve the drum sounds he was looking for, and saddled up with an array of well-known industry talent to get the Camacho show on the road. "There was only one guy that I was interested in mixing this album and that was Eric J Dubowsky. He was starting to do a lot of phat, warm sounds and I really wanted this flavour of mixing on my album." Also in the assemblage was Aussie producer Tony Buchen (Montaigne, The Preatures, Bob Evans), Sydney-based producer One Above aka Andrew Burford (Hilltop Hoods, Drapht, Allday), and ARIA winning producer Jon Hume (Matt Corby, Lisa Mitchell).
"The thing I wanted to do different with this album was to take my time and get it right. So many times in the past I have jumped into a studio for 4 - 6 weeks and recorded an album. Once the recording time is over, so is the album," explains Pete, "with Camacho there was no rush, it was going to be finished when it was finished."
And finished it is – guaranteed to be lapped up by new and old fans alike, Pete Murray has delivered a cool, uplifting, emotive, and powerful album and it will be celebrated and brought to life on the greatly anticipated Camacho Tour. Following sell-out shows across the country, the 32-date tour will take in capital cities and a host of regional centres throughout July, August and September.
Pumped to hit the road and play his new tunes for fans across Australia, Pete enthuses, "I'll be taking the full band on the road and heading to a stack of places I haven't been to in a while. I'm also really excited about playing the new music for the first time and cannot wait to get out there and see the crowd's reaction."