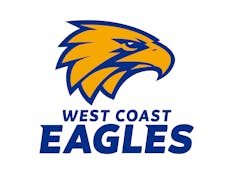 AFL
West Coast Eagles Tickets
Sorry... there are currently no upcoming events.
About
The West Coast Eagles were formed in 1987. The Eagles have achieved remarkable success throughout four decades in the highest level of football in Australia winning four premierships. The club has appeared in more finals campaigns than any other AFL club since 1987. Whilst their AFLW side joined the competition in 2020. The club's headquarters are at Mineral Resources Park in the Perth suburb of Lathlain and the team plays at the state of the art 60,000 seat capacity Optus Stadium. The Eagle mascot is based on the iconic Australian wedge-tail eagle and the colours of royal blue and gold represent the vivid imagery of Western Australia's land, sky, and ocean.
Location
Getting there
Trains travel direct to Perth Stadium Station for passengers on the Joondalup, Fremantle and Armadale Lines. Passengers on the Midland and Airport Lines can choose to walk over the Windan Bridge to East Perth Station.

There is no parking available at Optus Stadium on major event days. Optus Stadium car parks will be closed to general public on our major event days – such as Fremantle Docker/West Coast Eagles home games.

The suburban event bus network, as well as Perth CBD shuttles stop at Perth Stadium Bus Station. Please note that the Suburban Event Bus Network does not operate before weekday matches, as Transperth does not have the capacity to operate these services on weekdays during peak periods. Instead you will need to catch a regular timetabled bus to the city, where you can transfer to a train to Perth Stadium Station.

Additionally, if you normally catch the Joondalup or Fremantle lines direct to Perth Stadium Station you will need to transfer trains in Perth. The Suburban Event Bus Network will however run for 45 Minutes after the final siren.

There are a range of footpaths to Optus Stadium and over 600 bike racks are located around the Stadium Park.

Walkers and cyclists can venture over the Matagarup Bridge, a pedestrian bridge crossing over the Swan River from East Perth. Alternatively, the Burswood Peninsula path provides pedestrian and cycle access to the Stadium Park from all directions.

The primary taxi rank is located off Victoria Park Drive. The taxi rank is adjacent to the Eastern Train Station accessible via the underpass. In addition, an eight-stand pick up and drop off facility is located on Nelson Avenue in East Perth for taxi and other on-demand transport services to use e.g. Uber or Ola. Passengers of these services will be able to access the stadium via a short walk across the Matagarup Bridge. Pick up and drop off for private vehicles is not permitted.
Accessibility
Wheelchair accessible and Companion Card seating is available to buy online through the Interactive Section Map. Alternatively more information about purchasing accessible seating can be found here.
FAQS
Wheelchair accessible and Companion Card seating is available to buy online through our Interactive Section Map – no need for a phone call! Simply select Accessible Seating from the Price Category options and the map will display all available areas. Having trouble finding what you're after? Give Ticketmaster's Accessible Seating Line a call on 1300 446 925 for further information.

All 2023 Toyota AFL Premiership Season Tickets from Ticketmaster are fully digital – you can access your ticket in the palm of your hand via the Ticketmaster app or your mobile browser. Only purchase through Ticketmaster to guarantee you have a valid ticket for entry on game day.

Buying a mobile ticket with Ticketmaster couldn't be easier. If Mobile* is listed as a delivery option, you will then be able to access your ticket from your Ticketmaster Account once purchase has been completed. Add them straight to your phone's ticket wallet and share them with your friends and family.

For more information, please visit https://www.ticketmaster.com.au/mobileticket

Group bookings of 10+ are available through Ticketmaster Group Bookings. Please click here

We expect that tickets to some 2023 AFL games will be in high demand, and to make the process fair for everyone you may be placed in a queue. We recommend signing into your Ticketmaster account at least 10 minutes before tickets go on sale to save your spot and join the Pre-Queue waiting room. Please note, the time you join the Waiting Room does not determine your place in the Smart Queue.