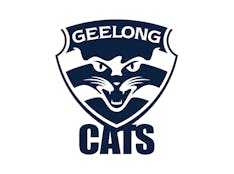 Sorry... there are currently no upcoming events.
About
The Geelong Football Club were formed in 1859, making them the second oldest club in the AFL. The Cats have 10 AFL/VFL Premierships to their name, including their AFL triumph in 2022. Their womens team joined the AFLW competition in 2019. The clubs office and training facilities are based at their home ground, GMHBA Stadium.
Location
Getting there
Geelong is 75 kilometres from Melbourne accessible via the Westgate Bridge and following the Princes Freeway.

In Geelong, the Princes Freeway becomes Latrobe Terrace (no turns required). Once you reach the set of traffic lights directly adjacent to 7-Eleven turn left onto Kilgour Street and make an immediate right. This will take you straight into Kardinia Park's main entry being Kilgour Street.

Limited public car parking is available within the Kardinia Park Precinct. For most Major Events, a parking fee will be applied, and should there be a large crowd, car parks will be held for 10 minutes post any event to allow for the safe egress of pedestrians. A drop off area is located at car park A2 which can be accessed via the main entry into Kardinia Park, Kilgour Street.

Public Bus Stops are located along Moorabool Street, directly opposite Gate 5 – Bernie Smith (river end) and Gate 1 – Polly Farmer (city end). Please note: The bus routes are subject to change based on road closures along Moorabool Street – these will be implemented for specific Major Events, and you should continue to monitor the Kardinia Park website for updates.

Geelong is approximately one hour from Melbourne's Southern Cross Station, with the Geelong Railway Station situated 1.8 kilometres to the north of the stadium and South Geelong Station located 450 metres to the east. Making 'getting to the stadium' simple and convenient.

On Major Event days, a Taxi Rank is located on Moorabool Street (directly opposite Gate 1 – Polly Farmer). This Rank is located outside of the Road Closures. Taxis can be booked at any time by phoning 131 008.
Accessibility
Wheelchair accessible and Companion Card seating is available to buy online through the Interactive Section Map. Alternatively more information about purchasing accessible seating can be found here.
FAQS
Wheelchair accessible and Companion Card seating is available to buy online through our Interactive Section Map – no need for a phone call! Simply select Accessible Seating from the Price Category options and the map will display all available areas. Having trouble finding what you're after? Give Ticketmaster's Accessible Seating Line a call on 1300 446 925 for further information.

All 2023 Toyota AFL Premiership Season Tickets from Ticketmaster are fully digital – you can access your ticket in the palm of your hand via the Ticketmaster app or your mobile browser. Only purchase through Ticketmaster to guarantee you have a valid ticket for entry on game day.

Buying a mobile ticket with Ticketmaster couldn't be easier. If Mobile* is listed as a delivery option, you will then be able to access your ticket from your Ticketmaster Account once purchase has been completed. Add them straight to your phone's ticket wallet and share them with your friends and family.

For more information, please visit https://www.ticketmaster.com.au/mobileticket

Group bookings of 10+ are available through Ticketmaster Group Bookings. Please click here

We expect that tickets to some 2023 AFL games will be in high demand, and to make the process fair for everyone you may be placed in a queue. We recommend signing into your Ticketmaster account at least 10 minutes before tickets go on sale to save your spot and join the Pre-Queue waiting room. Please note, the time you join the Waiting Room does not determine your place in the Smart Queue.