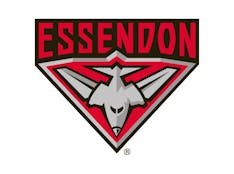 Sorry... there are currently no upcoming events.
About
Celebrating their 151st year of existence the Essendon Bombers based in Melbourne, Victoria were founded in 1872. The Bombers have won 16 VFL/AFL Premierships in the History, the equal most of any club in the AFL Competition. The clubs' offices and training facilities, The Hanger, are located in the northern Melbourne suburb of Tullamarine, being previously based at Windy Hill for over 70 years. They call Marvel Stadium at Docklands their home.
Location
Getting there
Southern Cross Station is located adjacent to Marvel Stadium and stops for both V-line and Metropolitan train lines. It is a short walk across the Spencer Street/Bourke Street pedestrian footbridge.

Marvel Stadium's car parking in Docklands is open 24 hours a day, 7 days a week, with more than 2,500* undercover car parks available daily.

City trams run to Marvel Stadium via La Trobe Street and Harbour Esplanade:

Tram #30: St Vincents Plaza / Central Pier Docklands

Tram #35: Anticlockwise / Anticlockwise or Clockwise / Clockwise

Tram #70: Waterfront City Docklands / Wattle Park

Tram #75: Central Pier Docklands / Vermont South

Tram #86: Waterfront City Docklands / Bundoora RMIT

Trams also stop in the CBD on Spencer Street, Bourke Street and Collins Street, and all are a short walk to Marvel Stadium:

Tram #96: St Kilda Beach / East Brunswick

Tram #11: West Preston / Victoria Harbour Docklands

Tram #48: North Balwyn / Victoria Harbour Docklands

The bus terminus is at Southern Cross Train Station and services airport transfers as well as routes across country Victoria. Marvel Stadium is a short walk across the Bourke Street pedestrian footbridge from the bus terminus.

An elevated, 20-metre wide pedestrian footbridge connects Marvel Stadium to Southern Cross Station and the intersection of Spencer Street and Bourke Street. Access can also be gained off La Trobe Street (Gate 7), Harbour Esplanade (Gates 8 and 9) and Bourke Street (Gate 1, 2, 3).
Accessibility
Wheelchair accessible and Companion Card seating is available to buy online through the Interactive Section Map. Alternatively more information about purchasing accessible seating can be found here.
FAQS
Wheelchair accessible and Companion Card seating is available to buy online through our Interactive Section Map – no need for a phone call! Simply select Accessible Seating from the Price Category options and the map will display all available areas. Having trouble finding what you're after? Give Ticketmaster's Accessible Seating Line a call on 1300 446 925 for further information.

All 2023 Toyota AFL Premiership Season Tickets from Ticketmaster are fully digital – you can access your ticket in the palm of your hand via the Ticketmaster app or your mobile browser. Only purchase through Ticketmaster to guarantee you have a valid ticket for entry on game day.

Buying a mobile ticket with Ticketmaster couldn't be easier. If Mobile* is listed as a delivery option, you will then be able to access your ticket from your Ticketmaster Account once purchase has been completed. Add them straight to your phone's ticket wallet and share them with your friends and family.

For more information, please visit https://www.ticketmaster.com.au/mobileticket

Group bookings of 10+ are available through Ticketmaster Group Bookings. Please click here

We expect that tickets to some 2023 AFL games will be in high demand, and to make the process fair for everyone you may be placed in a queue. We recommend signing into your Ticketmaster account at least 10 minutes before tickets go on sale to save your spot and join the Pre-Queue waiting room. Please note, the time you join the Waiting Room does not determine your place in the Smart Queue.